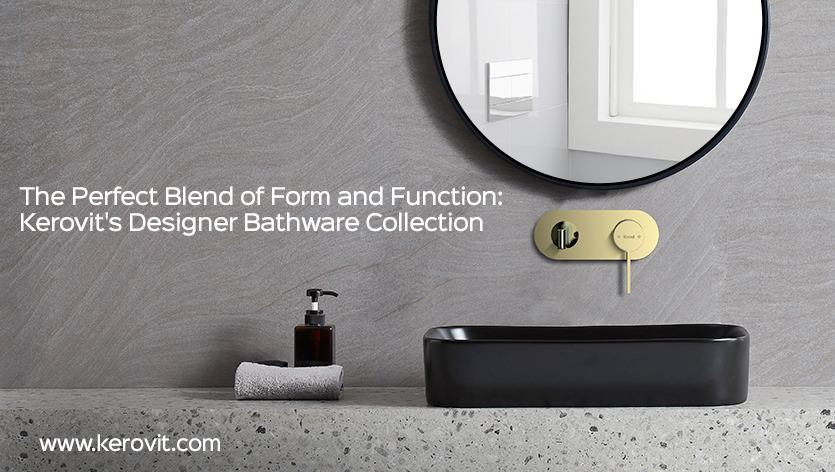 "The Perfect Blend of Form and Function: Kerovit's Designer Bathware Collection"
When it comes to transforming a bathroom into a haven of luxury and style, Kerovit's Aurum Collection stands out as a true masterpiece. This exclusive range of bath fittings and sanitaryware seamlessly combines aesthetics and functionality, creating an extraordinary bathroom experience. Let us dive into the world of Aurum, exploring its unique designs, artistic elements, and statement pieces that can transform any bathroom into a work of art.
Kerovit's Aurum Collection is a testament to the brand's commitment to exquisite craftsmanship and cutting-edge design. Each piece in this collection reflects elegance and sophistication, showcasing meticulous attention to detail and a perfect blend of form and function. Every single piece is made with precision, thinking about every need of the buyer.
Artistic Elements:
What sets the Aurum Designer Collection apart is the incorporation of artistic elements that elevate the aesthetics of the bathroom. The use of high-quality materials, such as premium metals and exquisite finishes, further enhances the visual appeal of each piece.
Statement Pieces:
Aurum offers an array of statement pieces that can truly transform a bathroom into a personal sanctuary. Imagine stepping into a luxurious shower enclosure with a rain shower head that cascades water like a gentle waterfall, enveloping you in a soothing embrace. Or picture yourself indulging in a freestanding bathtub, a centrepiece that exudes opulence and invites relaxation. The Aurum Designer Collection features these remarkable statement pieces, turning daily rituals into moments of indulgence and serenity.
Functionality Redefined:
While the Aurum Designer Collection is undeniably visually captivating, it also excels in terms of functionality. Kerovit understands that a beautiful bathroom should not compromise on practicality and convenience.
Precision Engineering:
Each fixture in the Aurum collection is meticulously crafted using advanced engineering techniques. The result is not only stunning aesthetics but also reliable performance and durability. The faucets ensure a precise flow of water, the showerheads provide a luxurious and even spray, and the sanitaryware is designed for effortless maintenance.
Innovative Features:
Kerovit's Aurum Designer Collection redefines the concept of luxury and style in the realm of bath fittings and sanitaryware. With its exquisite designs, artistic elements, and statement pieces, this collection offers an unparalleled opportunity to transform your bathroom into a work of art. Combining stunning aesthetics with reliable functionality, Aurum sets a new standard for indulgence and comfort in the modern bathroom. Elevate your space with Aurum and experience the perfect blend of form and function.