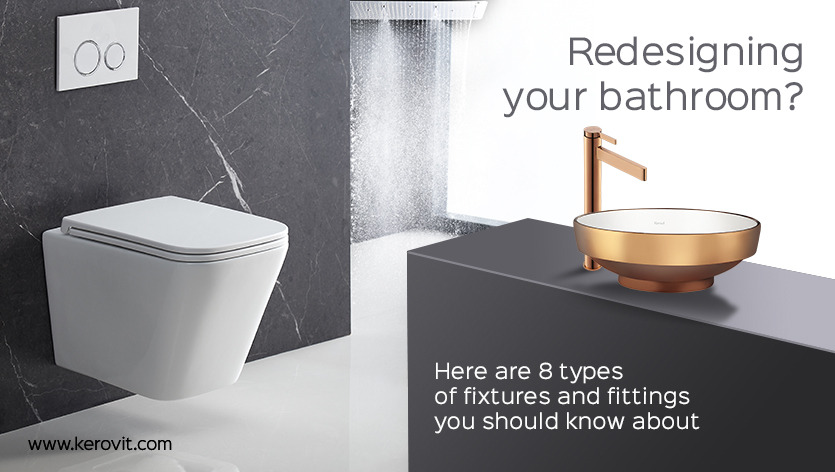 Redesigning your bathroom? Here are 8 types of fixtures and fittings you should know about
It is natural to feel all confused about bathroom terminology, especially when you are planning to redesign your bathroom. Let's face it, being aware of the different types of bathroom fixtures and fittings is nobody's strong suit and there are lots of decisions to be made while redesigning your bathroom. We know it sounds a little overwhelming, but don't worry, we are here to handhold you and guide you through bathroom fixtures and fittings that you can consider for your bathroom.
Let's first make you familiar with what a bathroom fixture is and what a bathroom fitting is, and how they are different from each other.
Difference between a Bathroom Fixture and a Bathroom fitting:
Get ready because you are going to get familiar with basic bathroom terminology. The difference between a bathroom fixture and a bathroom fitting is actually very simple.
A bathroom fixture comprises permanent features, that are plumbed or wired in. You cannot easily remove fixtures without renovation work. Examples of bathroom fixtures include bathtubs and toilets.
A bathroom fitting is an element you include in your bathroom in addition to permanent features. Fittings are easier to remove or replace. Examples include mirrors and wall cabinets.
8 Types of Bathroom Fixtures and Bathroom Fittings:
Now that the bathroom terminology is clear, let's jump right into different types of fixtures and fittings that you can consider while redesigning your bathroom. There are several options available for you to choose from which might make it stressful for you to decide what you do and don't need for your bathroom. We have exclusively compiled a list for you, here it goes:
Bathroom fixtures:
Faucets:
Next on our list of bathroom fixtures is faucets. We know a sink is incomplete without its taps. Having a large number of options available, choosing the taps for your bathroom basin or bathtub is as much about practicality as it is about style.
You must choose the right faucet for your bathroom in order to maintain the harmony of your bathroom. You can consider the following for your bathroom:
– Single-Hole faucet: Single handle that controls the water temperature from hot to cold
– Center-Set Faucet: One tap for cold water and one tap for hot water
 

Toilets:
The next bathroom fixture on our list is toilets. We are sure you'd be surprised with how much choice there is when it comes to toilet styles.
When redesigning your bathroom you can consider the following toilets:
Closed-Coupled Toilets: This is the most common toilet which stands on the floor, with a cistern sitting atop the bowl. Consider a fully back-to-wall closed-coupled toilet if you are looking to save space.
Wall-Hung Toilet: They have a tank built into the wall behind the toilet to which the ball is attached. They give your bathroom a more contemporary feel. They can also be cleaned easily.
 

Bathtubs:
A bathtub is a premium bathroom fixture. It adds a bit of luxury to your bathroom space. A bathtub can also serve as the focal point of your bathroom. If you have a smaller bathroom space, a bathtub may seem unnecessary but it is still something to be considered.
If you are expecting to have young children staying at over, or if you are looking for an easy and relaxing way to unwind, a bathtub is a smart investment. You might want to consider the following when opting for a bathtub:
– The bathtub must be made of high-quality materials so that it is long-wearing
– The shape of the bathtub must be considered
– Position of plugs and taps must be considered
 

Sinks:
You should consider a few things before choosing the sink for your bathroom like material, size, shape, and how it will be mounted.
You can opt to design a bespoke custom-made bathroom picking out the sink of your choice.
Bathroom Fittings:
 

Toilet Seats:
Toilet seats are used frequently and undergo wear and tear. It is often overlooked as a bathroom fitting. You must consider the following while choosing toilet seats:
 Materials used: Most toilet seats are made with hardwearing thermoplastic which is easy to clean. If you are looking for a vintage look, wood effect toilet seats are popular choices
Hinges: A great tip that we would like to give you is to choose a toilet seat with soft close hinges which offer a slow-release system that makes it more hygienic and quieter. Another option here can be release hinges which allow you to remove the toilet seat
Bathroom Accessories:
Shower baskets, soap dispensers, toilet roll holders, and towel rails are some of the smaller fittings that come under bathroom accessories.
Keep in mind the décor you want in your bathroom and align your chosen accessories to coordinate in a way that complements your vision. You can opt for minimalistic and clean accessories in block colors for a modern look. For a traditional style, opt for accessories with more intricate decoration. 
Wall Cabinets:
Wall cabinets are an excellent storage solution that allows you to keep your bathroom organized and neat. Installing a wall cabinet with a mirrored front is a modern look that is very popular. The style of shelving in your wall cabinet also matters and should be considered. Space should be the top priority here because if you install a large cabinet in a small bathroom it will dominate the room and if you choose a small cabinet for a large bathroom, it will get lost. 
 

Mirrors:
Last, but not least, the fitting without which bathrooms would be incomplete, yes, we are talking about mirrors. When choosing your bathroom mirror, keep the design and style of your bathroom in your mind. A frameless mirror with sharp edges offers a contemporary look and feel. Alternatively, a rounded mirror having an intricate frame will give your bathroom a more traditional look.
Pairing the right lighting with the mirror is of utmost importance. Some mirrors give you the option of LED light that comes with it, which gives the bathroom a modern feel.
Now that you are aware of the bathroom terminologies and are familiar with the different fixtures and fittings that you can choose for your bathroom, we hope that you will be able to put together the bathroom of your dreams.