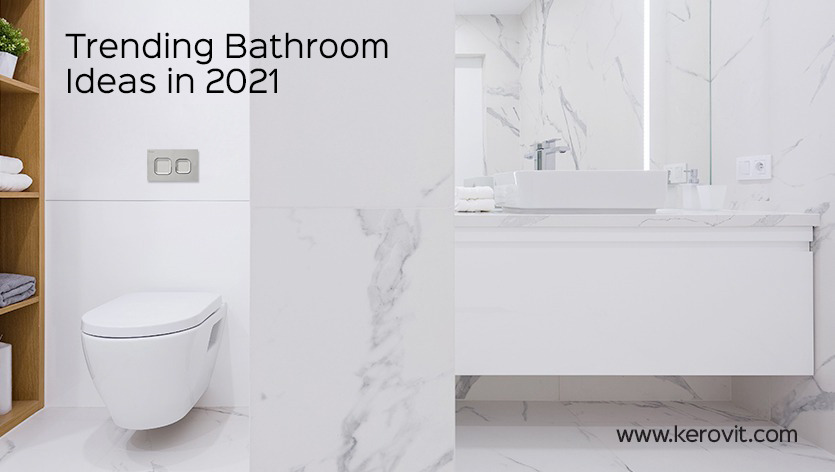 Trending Bathroom Ideas in 2021
2020 brought in the pandemic, and along with it came a sense of awareness of the cleanliness of ourselves and our surroundings. As personal hygiene continues to be one of the top priorities, hygiene of our surroundings is right up there too. The current trend, due to COVID-19 is "hygiene and cleanliness begins at home" and bathrooms are on the top of the list. In 2021, bathroom interiors that prioritize easy-to-clean surfaces and antimicrobial fixtures would be the 'in thing'. We have combined a list of bathroom items without compromising an ounce of style that will be trending in 2021. Let's dive straight into it.
1.  Large-Format Porcelain and Ceramic Tiles: When it comes to bathroom walls, tiny mosaic tiles have been used for the longest time. This 2021, large format tiles are bound to gain momentum and become trending. Extra large slabs change the perception of the tiled floor. It provides a decorative impact and fewer grout lines also means less to clean, making slabs a preferred choice of tiles around a shower.
2. Smart Toilets: Automating homes with smart systems could only be afforded by tech-savvy and rich people, but is steadily finding a prominent place in the post-pandemic home. Smart toilets have in-built technology and there have been several advances in this category that make them a healthier trend in 2021. Smart toilets have improved hygiene and sophisticated aesthetics. The major reason why smart toilets will be trending this year is due to the hands-free components, like self-closing lids and touch-free flushing that reduce interactions with germy surfaces. One of the most prominent features to look out for is self-cleaning technology.
3. Durable Paint: An ideal mix of vibrant and warm colors are going to trend in 2021. In addition to the color you choose, it is equally important that you opt for durable paints. Durable paints make sure your bathroom stays cleaner for longer. 2020 saw many advancements in making paints more hygienic and stain-resistant. The main characteristics of good bathroom paint includes washable finish, stain-resistant and glossy finish so that your bathroom not only looks vibrant but is also easy to maintain.
4. Back-Lit/LED Mirrors: Back-lit mirrors are an exceptional choice for modern bathroom design. Also known as LED mirrors, they create subtle but sufficient light that makes it easier to observe your features clearly. These can be decorative as well as functional too. A backlit mirror creates a glowing effect on the wall giving the illusion of a floating mirror. The major advantage of LED mirrors is that it helps you save significantly on your electricity bill. Back-lit mirrors will surely be trending in 2021.
5. Wall-Mounted Vanities: Floating vanities have always been a contemporary choice as it makes the bathroom seem more spacious. A floating vanity is mounted on a wall, giving it an illusion that it is floating. The trend in 2021 dictates several additional space saving options available like wall-mounted faucets, toilets, and basins to fit any style.There are different styles of Wall-mount bathroom vanities that are popular. In 2021 the most trending floating vanities will include, single-sink, double-sink, dual floating vanities and wall-to-wall floating vanities.
6. Quartz Countertops: Quartz countertops regularly top the list of the most popular surface material for a bathroom. Made from roughly 90% quartz, which is non-porous. This provides 2 major benefits:
– It is less susceptible to fostering bacteria
– It is stain-resistant
These countertops are also highly-durable, and have sleek profiles with few seams which adds to their low-maintenance appeal. Quartz countertops have regularly been popular and will be trending in 2021 as well.
7. Wood-look tiles: Ceramic and porcelain tiles have been the top-ranking materials for bathroom flooring. This is because they offer unique benefits, such as durability, hypoallergenic characteristics, resistance to moisture and bacteria, easiness to maintain and clean, etc. The only aspect it lacks is the look and feel. Imagine reaping the benefits of a ceramic and porcelain tile along with obtaining beautiful and warm aesthetics. Yes you heard it right. Wood-look tiles are going to be trending in 2021. These are ceramic and porcelain tiles that mimic natural hardwood finishes and high-contrast marbles.  They resemble the appearance of natural wood, providing beautiful and warm aesthetics.
These are some of the bathroom trends of 2021. What are you waiting for? Go ahead, include these in your bathroom renovations and keep up with the trend!