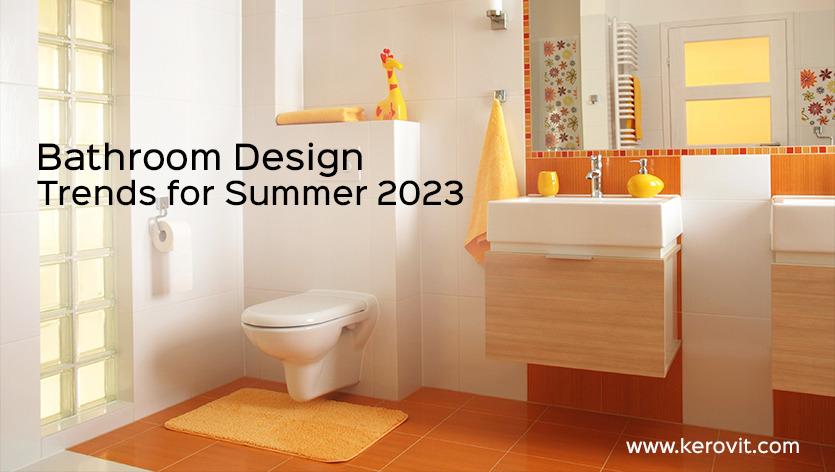 Bathroom Design Trends for Summer 2023
As we approach the summer of 2023, it's a great time to look at the latest bathroom design trends from Kerovit. The brand is known for its innovative and stylish bathroom fixtures & accessories, their new designs for the summer season are no exception. In this article, we'll explore the latest Kerovit bathroom design trends that will be sure to inspire your own bathroom renovation or design project.
1. Minimalism with a Touch of Luxury
Kerovit's latest bathroom design trend for summer 2023 is all about minimalism with a touch of luxury. This design trend features clean lines, simple shapes, and a focus on functionality. With the addition of high-end materials and finishes that add a sense of luxury to the space, it is a perfect fit. Think of a matte black or brushed gold faucets, sleek marble countertops, and minimalist wall-mounted cabinets for a sleek and modern look.
2. Natural and Organic Materials
Another major trend in bathroom design for summer 2023 is the use of natural and organic materials. Kerovit has embraced this trend with its range of wooden vanities, stone countertops, and organic-shaped mirrors. The use of natural materials creates a calming and soothing environment, bringing the beauty of the outdoors into your bathroom. You can also incorporate natural materials into your bathroom through the use of plant life, such as hanging plants or potted ferns.
3. Bold and Bright colours
For those who love a pop of colours in their bathroom, Kerovit's summer 2023 trend has got you covered. This trend features bold and bright colours, such as navy blue, emerald green, and burnt orange. These colours add energy and personality to the space and can be incorporated into your bathroom design through the use of coloured tiles, patterned wallpaper, or brightly coloured towels and accessories.
4. Technology-Enabled Design
Kerovit is always at the forefront of bathroom technology, and the summer 2023 trend is no different. This trend features technology-enabled bathroom fixtures and accessories, such as touchless faucets, smart mirrors, and voice-activated lighting. These features not only add a high-tech touch to your bathroom but also increase the functionality and convenience of the space.
5. Wellness-Oriented Design
Lastly, Kerovit's summer 2023 trend is all about wellness-oriented design. This trend focuses on creating a bathroom space that promotes relaxation, self-care, and mindfulness. Think of freestanding bathtubs, rain showerheads, and built-in sound systems that allow you to listen to your favorite music or guided meditations while you soak. The trend also includes the use of aromatherapy and lighting design to create a calming and soothing environment.
In conclusion, Kerovit's bathroom design trends for summer 2023 are all about creating a functional, stylish, and wellness-oriented space that reflects your personal style and preferences. From minimalism with a touch of luxury to bold and bright colours, there's a trend for everyone. So, start planning your bathroom renovation or design project today and incorporate some of these exciting trends into your own space.