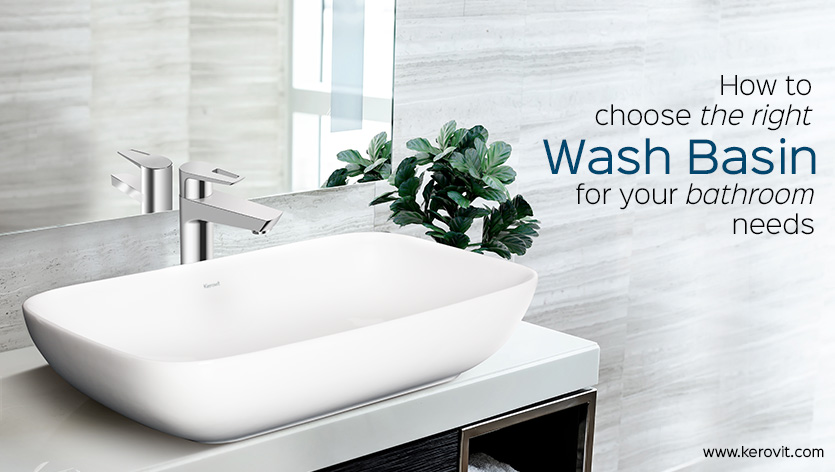 A Complete Guide On How To Choose The Right Wash Basin For Your Bathroom
The bathroom has become, in the current times a room where substantially more time is spent than before. These days, you will come across many designers and architects devoting a lot of time to give you the best modern bathroom. A segment that is unquestionably among the primary aesthetics of the feel of the bathroom is without a doubt the wash basin. It gives your bathroom a style, which can be great, modern, lavish or vintage.
The right wash basin for your bathroom largely depends on the color theme, space, and layout of your bathroom. This blog is a complete guide for the people on how they can choose the right wash basin for their bathroom.
Few things that one needs to consider are:
The size of your bathroom: The washbasins come in different sizes, designs and shapes. Its advisable that you buy one considering your size of bathroom. For small and compact bathrooms, corner wash basins are the best option. For large bathrooms, one can go for countertop basin or pedestal basin.
The location of your toilet seat and shower: This is very important as you don't want to make your bathroom look all messy and unorganized. Basin should be fixed according to the location of your toilet seat and shower, not causing any hindrance.
Mounting: Every basin has a different installation process. Some can be place over a unit, some can be mounted on the wall.
Correct Choice of Faucets: Choosing faucets for your wash basin is very important as it should match the style of wash basin as well as your bathroom. You will have a wide variety of faucets to choose from.
The Best Material For a Bathroom Wash Basin
Ceramic
The most widely recognized material for a bathroom basin is Ceramic. These basins are very popular among the crowd as they are available in various designs and shapes. They are inexpensive, durable and are easy to clean and maintain.
Marble/ Stone
Strong surface basins made of marble/stone are noticeable by their perfect lines and absence of creases. They have a cutting edge, moderate look, and are simple to keep clean. They gave a luxurious look to bathroom.
Glass
Glass wash basin are very trendy these days but they require some extra care. They should only be installed in bathrooms where users are careful of not dropping the things on the basin.
Resin
Vanity washbasins are made of the material resin. As compared to the other basin material, resin is less heavy.
Size of the wash basin that is best for your bathroom
There is no genuine norm or normal size for a washroom basin. The size you need will be reliant on how much space you have in your bathroom and what look of the basin you are choosing. In case you're fitting basin in a cloakroom, you'll need something compact. In case you're fitting a sink in an enormous large family bathroom, you'll have a lot more prominent scope of sizes to browse. In case you're hoping to introduce a countertop basin, give close consideration to the size of your vanity unit to guarantee the basin perfect fit.
You should be aware of the different types of basin options that you have to choose for your bathroom. Some of the most popular types of wash basin are: Wall Hung Basins, Counter top Basins, Over Counter Basins, Under Counter Basins, Semi Recessed Basins, Basin with Pedestal, Basin with integrated pedestal and Basin with half pedestal
Depending on the theme and look of your bathroom interior, you can opt for any wash basin look in any shape and color. Your choice of wash basin will not only give your bathroom a modern look but will even give a look of your personality taste. Before buying a washbasin, it is advisable that you check with your plumber for all the plumbing needs and placement of the basin. Kerovit has the perfect range of wash basins that will match the theme, style and decor of your bathroom.