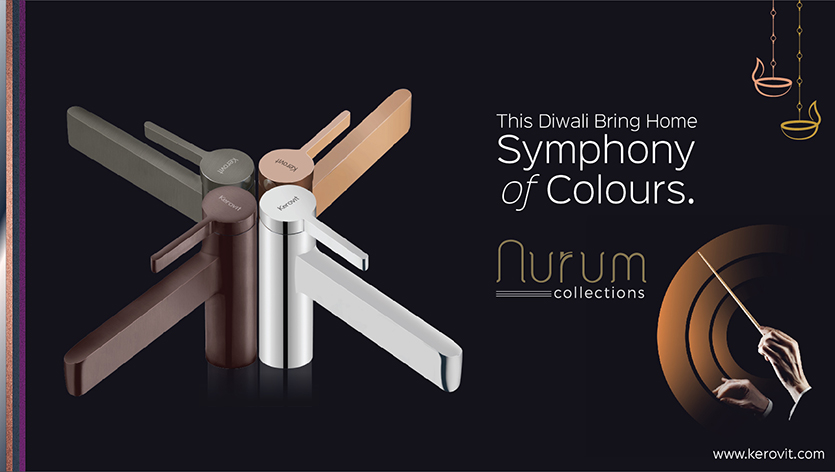 Bring the Symphony of Colors to your bathroom with Kerovit's Aurum Collections
Kerovit has been known for their enduring and mind-blowing designs. Now, we are happy to introduce our Aurum Collection, a manifestation of nature's frequency taking luxury to the next level. It caters to those who prefer inspiring, colorful, edgy designs for their bathrooms. It is the perfect balance of technology, design, and the symphony of colors creating masterpieces that redefines and sets new benchmarks for your bathroom.
The theme is inspired by the roaring yet the tranquil sound of the rivers flowing through the curves on the face of the earth. Life dancing to the rhythm of the water in sacred geometrical patterns spreading its colors. A manifestation of nature's frequency, The Aurum collections by Kerovit is no less than a Symphony of Colors.
An aesthetic collection that is contemporary and minimalist technology making your bathroom feel alive. The color scheme that has been used for the aurum collection is unique and has its own symphony and inspiration.
The symphony of Rose Gold: Elegance meets luxury giving your bathroom a vibe like never before
The symphony of the chrome: Your bathroom will speak your personality just like how you see the world, is a mere reflection of your soul.
The Symphony of Gunmetal: This color theme is inspired by how the water flows undeterred cutting through the mountains to reach the sea.
The symphony of chrome and gold: The symphony of chrome and gold: The mix of chrome and gold depicts grandeur in life which cannot be inherited but it gets developed.
The symphony of matte black: Our matte black collection is just like the deep waters of the well with no desire to flow aimlessly.
The symphony of purple: The theme is inspired by the intense passion for inner truths which is unparalleled.
The symphony of matte white: The theme is inspired by the purity and white that are pious words of soul.
The Aurum Luxury Collection includes all the sanitary ware your bathroom needs be it faucets, taps, mixers, thermostat, diverter, health faucet, shower, or washbasin. The faucets of the aurum collection come with PVD (Physical Vapor Deposition). PVD refers to variety of thin deposition where a solid material that is vaporized in a vacuum environment. Some of the benefits of PVD are:
PVD coating reduces friction
They provide a barrier against damage
It provides a brilliant finish
It is highly resistant to scrapes and scratches
They are environment friendly
So what are you waiting for? Revamp the look of your bathroom and let the symphony of colors do the talking. Bring in luxury to your bathroom, explore our Aurum Collection catalogue today!