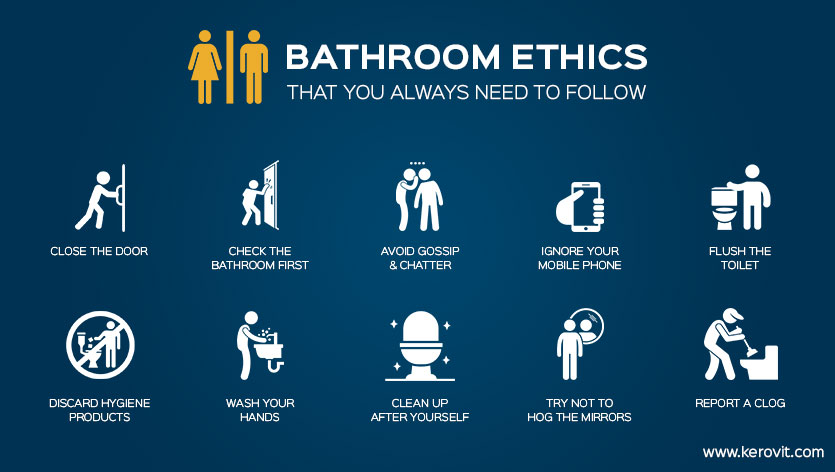 Bathroom Ethics That You Always Need To Follow
One of the least talked about manners is the bathroom manners and ethics, yet it's one that should be addressed. Regardless of whether you have to utilize the bathroom when visiting a friend or you're utilizing a public bathroom, follow these rules for good bathroom habits. Realizing some essential behavior rules will give you the certainty that you are making the best choice.
If you are the host or hostess of a gathering or simply having friends over for drinks, check the bathroom before the visitors show up. Ensure you have adequate bathroom tissues, hand wash, soap and hand towels. An extra box of tissue on the rack will prove to be useful in case you're facilitating a huge gathering or even a couple of individuals for an extensive stretch.
Close the Door
This may appear to be an easy decision; however, you'll be astounded by what number of individuals try not to close the door when they use the bathroom. One should Close the door and ensure it clicks. If you are in a public bathroom make sure you look at the door.
Check the bathroom first
In a public bathroom, don't simply push open the door. Somebody may have missed the hook, or the lock probably won't work. Check beneath the door, if you see feet, go to another bathroom.
Avoid gossip and Chatter
Try not to mistake the bathroom for a gathering room. It's not the spot to talk about business or have long phone conversations. Remember there are others too who might want to use the bathroom.
Ignore Your mobile Phone
Try not to chat on your phone when using the bathroom. When using a phone, you tend to take a lot more time in the bathroom than usual. Also, there are chances you might drop your phone so it's better you leave the phone out.
Flush the Toilet and Cover the Evidence
Before you leave the bathroom, ensure you flush the toilet seat. Stick around and verify whether everything has been whisked away. You don't have to leave something behind for the next individual to manage. If you are in somebody's home, you may need to flush more than once to diminish sounds or lingering scents.
Discard all Personal Hygiene Products
Anything you use for personal cleanliness should be wrapped and discarded in a dustbin. Avoid flushing anything besides bathroom tissue since it may clog the toilet system.
Wash Your Hands
Never leave a bathroom without washing your hands. This is both an etiquette issue and a sanitary need. You can prevent the spreading of germs by keeping your hands clean consistently. Dry your hands after you wash them.
Clean up After Yourself
Leave the bathroom in and as great of condition as you discovered it. This implies men should check the floor around the seat and wipe up splatters. Both women and men need to check the seat and ensure they are perfect and clean.
After washing your hands, avoid sprinkling water or soap everywhere throughout the basin and mirror. If there is a paper towel accessible, wipe the splatters around the basin.
Try not to Hog the Mirrors
Women, it's fine and even expected for you to refresh your makeup in the bathroom. Nonetheless, on the off chance that somebody is holding back to wash her hands or utilize the mirror after you, don't hesitate. Do what you have to do and afterward escape the route as fast as could be expected.
Report a Clog
Whether it's someone else or you might have caused a clog, ensure that it is taken care of as it might create problems later. Clogging problems are bad and should be avoided in order to maintain the functionality of the bathroom.