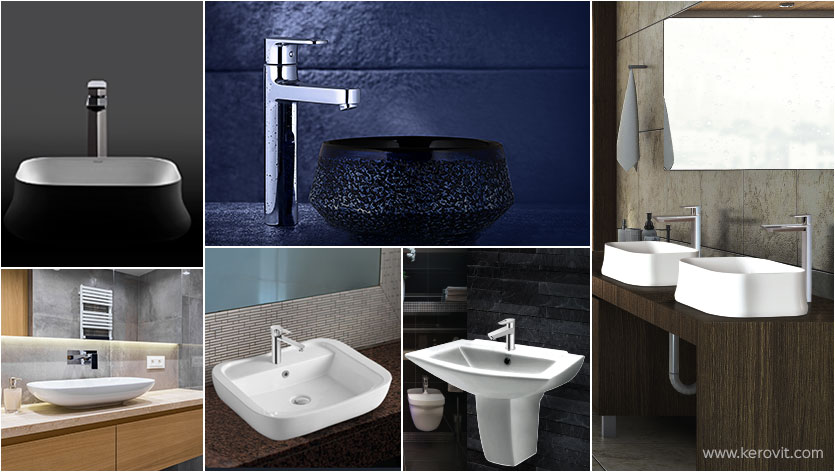 Types Of Washbasin That Suit Your Bathroom
Picking a washbasin for your bathroom involves taking into consideration many washbasin styles and designs. It demands a lot of attention starting from the position of drains and water pipes, even the variables of the basin. Apart from this, you must take into account the style, space, and functionality as important factors. This blog will help you in choosing the idea wash basin for your bathroom.
Types of Washbasin for your bathroom
The countertop
Choosing the best counter top wash basin demands that you choose one which offers strength along with aesthetics. They are also referred to as drop-ins or self-rimming basins. They are easy to install that's why; they are a common choice when it comes to choosing for a luxury bathroom.
The Over counter
If you wish to have a modern, highly innovative bathroom then, over counter is just for you. The washbasin is above the counter or cabinet, creating a focal point that looks interesting. They are preferred a lot in urban cities. The only trick of getting them installed is that their height should be low as possible so that they can be accessed easily and hassle-free.
The Undercounter
The under counter washbasins are preferred choice of the homeowners that want modern and easy to clean washbasins. They are easy to clean as they don't have rims that store debris.
The Wall Hung
Wall hung basins are also referred to as wall mount basins. They have a basin mounted in the wall with the help of screws. The user can decide the position and height of the mount accordingly. When choosing these basins, it's best that you don't go for heavy ones as they can't be held strongly with screws for a long time. But, some homeowners choose them as they are cheap in price than a pedestal wash basin. You can find them in various styles and designs to transform your bathroom.
The Pedestal
The pedestal is basically the stand of the washbasin. The washbasins with pedestals can come as a single unit or as a unit with detachable basin and pedestal. Users who prefer having a designer basin might choose this type with the sink and pedestal as a single unit. They come in modern concepts and beautiful themes. With their sleekness, they create an illusion and make your small bathroom look even bigger.
Choosing the perfect wash basin starts by understanding the needs and requirements of the user. With a clear goal, one can choose the right washbasin for their bathroom that makes it both functional and appealing.