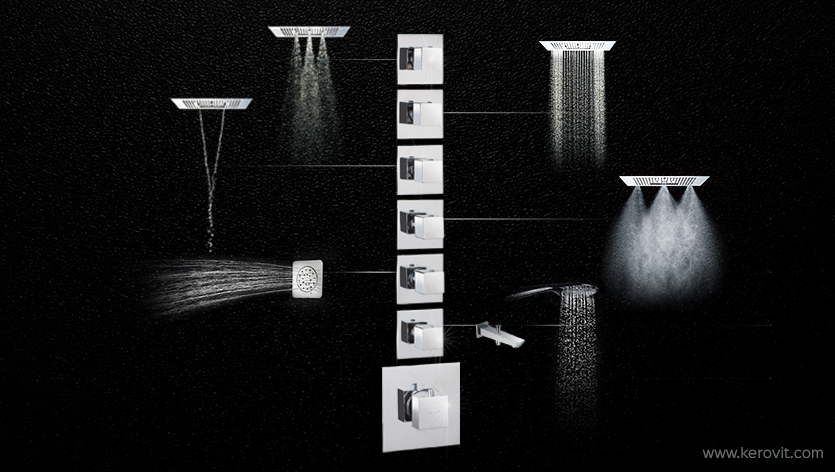 These Winters, For a Relaxing Bath Thermo Control Technology Is All You Need
The biggest problem that everyone comes across in winters is the right mix of water to take bath. We have shower and faucets but which of them can adapt according to the temperature outside. Kerovit brings to you thermostat control technology that maintains a balance between the temperature and water pressure to give you the perfect bathing experience every time you step into the bathroom. So, now you don't have to worry about mixing hot water and cold water.
It comes with the anti-scald technology which works by mixing hot and cold water to avoid any burns from hot water. The Thermo control device is set at the right temperature to protect, 38degrees. There is also a special button by which you can override this setting when required. For the great look of your bathroom, you can choose the shape of the Thermo control device from square or round.
What is the need for Thermo Control Technology?
A bathroom is an essential utility that drives us away from the world and washes away all our stress and pain. The shower is one important part of a modern bathroom these days. But what if our bathing experience gets interrupted with the fluctuating temperature, it will take away all the calm and serenity of bath. The water pressure and temperature can fluctuate severely by just a kitchen tap, flush of the toilet, etc. The ideal solution is to install thermostatic mixing valves and anti-scald devices.
When water is drawn from a faucet in another bathroom or kitchen, the pressure of the water can vary in the other faucets causing a sudden gush of burning or freezing water. This device will help in balancing the water pressure and will keep the temperature constant every time. The thermostatic valve mixes hot and cold water to your pre-selected temperature and instantly reacts to any change in the pressure or temperature of the water supply by re-adjusting the mix of cold and hot water.