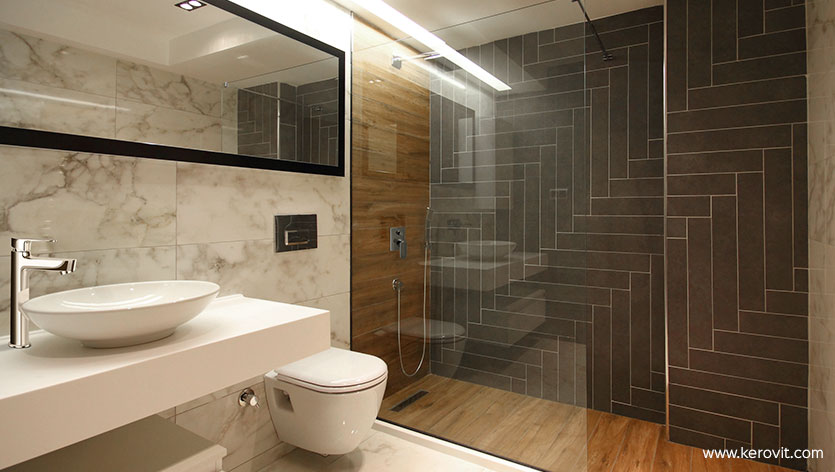 6 Designing Ideas To Make Your Tiny Bathroom Look Bigger
It is safe to state that the bathroom is the most utilitarian space in any home. It is likewise one of the only few rooms where you find a good pace bit of "personal" time all the time – regardless of whether you are a housewife under your baby's steady watch or a businessperson working nonstop. Be that as it may, with the advancement of vertical homes, an open washroom is more an extravagance than a need. Read further for a couple of designing ideas to make your tiny bathroom look better.
Cut down on the mess
When searching for techniques to make your tiny bathroom look bigger the first and foremost thing you have to do is clear and cut down all the mess. Scan the whole bathroom and look for accessories and things that are of no use and throw them away. Also, sort out the daily required items in an organized way.
Install a tabletop basin
Installing a tabletop basin provides you the dual advantage of providing you more space and even giving an adequate amount for the storage which a pedestal basin won't offer. The storage cabinets can be used for keeping your towels, scrubs and various other toiletries. This makes your bathroom look bigger, sleek and sophisticated.
Go for bright lighting in your bathroom
When it comes to making little space look bigger, the correct lighting can do wonders. Go for row lighting that lowers shadowing and makes your bathroom look spacious. It also adds to the functionality of the bathroom. Always choose white light instead of yellow light.
Keep your bathroom decor all white
The easiest and best way for making your bathroom look spacious is by keeping your bathroom decor all white. White on white might not be everyone's ideal choice of bathroom decor but no color better than white can make your bathroom look spacious and give it a luxurious look.
Install Concealed Cistern
Giving your bathroom a sleek gets super easy by installing a concealed cistern. With this, your flush valve is mounted inside the wall giving you a lot of space. This is the best way for utilizing your bathroom space and enhancing its look.
Opt for vanity cabinets
Having a separate basin, cabinet and mirror can be messy. What if you have a single option of a vanity cabinet that has a huge mirror, basin and even drawers to keep your stuff. You can choose vanity cabinets from a variety of designs and shapes that compliment your bathroom in the best possible way. It would be best if you install a large mirror that takes up more space on the wall to depart attention from your small bathroom.
The above mentioned are some of the best small bathroom designing ideas that you can keep in mind to make your bathroom look bigger.