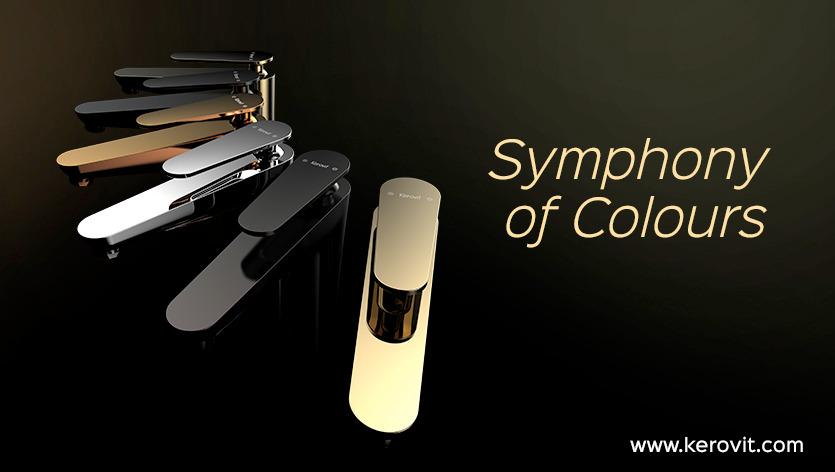 Aurum Collection – Symphony of Colours
The Aurum Collections, a Symphony of Colours, is a stunning showcase of the vibrant & extraordinary in bathroom fixtures and accessories, created by Kerovit. This collection is a true celebration of colour, with products that are not only functional, but also visually appealing and designed to inspire creativity. Whether you are looking to create a bold statement in your bathroom or a calm and relaxing space, the Aurum Collections has something for everyone.
The collection features a wide range of products, including toilets, faucets, showerheads, and accessories, all of which are available in a variety of colours. From vibrant hues like red, yellow, and blue to more subdued shades like black, white, and grey, the Aurum Collections has a colour to match every design style and personal preference. The products in this collections are designed with attention to detail, from the curves and angles of the fixtures to the soft and elegant finish.
The faucets and showerheads in the Aurum Collections are just as impressive, with sleek, modern designs and a range of colours to choose from. The faucets are designed with functionality in mind, with features like a single lever for ease of use and a pull-out spray head for added convenience. The showerheads in this line are equally impressive, with adjustable water flow and multiple spray options, making them perfect for creating a spa-like experience in your own home.
One more extraordinary piece of art in the Aurum Collections is the toilet, which is available in two colours and features a sleek, modern design. The toilets in this line are not only beautiful, but also eco-friendly, with water-saving features and dual flush. The toilets are designed with comfort in mind.
In addition to the stunning fixtures, the Aurum Collections also includes a range of coordinating accessories, such as towel rings, soap dishes, and toilet paper holders. These pieces are designed to compliment the fixtures and add an extra touch of colour and style to your bathroom. Whether you are looking to create a bold and bright bathroom or a more muted and calming space, the Aurum Collections has everything you need to complete your vision.
In conclusion, the Aurum Collections: Symphony of Colours is a beautiful and innovative line of bathroom fixtures and accessories, designed to inspire creativity and add colour and style to any bathroom. With its wide range of pieces, from art basins to faucets and showerheads, this collection is the perfect choice for anyone looking to create a truly unique and beautiful bathroom space. So, whether you are starting a new bathroom renovation project or simply looking to update your existing space, the Aurum Collections is a must-see.