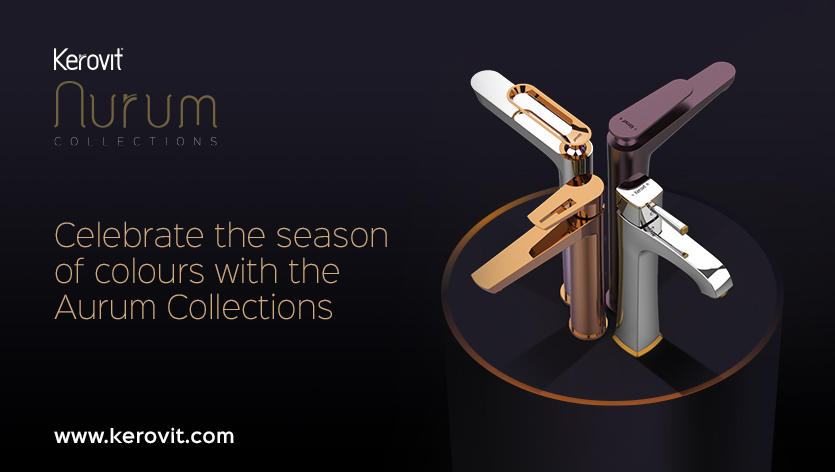 Celebrate the season of colours with the Aurum Collections
India is a country of many colours, whether it's the glorious greens and blues found in the landscape, or the million shades we come across owing to our rich tradition, architecture, and culture. In a country this colourful, it only makes sense to bring some beauty to our bathroom as well. This is how the Aurum Collections was born, a premium range of faucet and sanitaryware meant to encapsulate the rich colours we come across in nature and bring them to life through a wide range. The Symphony of Colours created by the Aurum Collections and its faucets, basins, toilets, showers, health faucets, and more is a spectacle to behold.
Inspired by the wonderful symphony produced by colours in nature, the faucets and sanitaryware come in colours like Chrome, Rose Gold, Gold, Gunmetal, Purple. Needless to say, there is no better time to bring home the Aurum Collections than the festival of colours. Whether it is the rose gold faucets of the Chime Range, or the wonderful symphony of Gold and Chrome faucets of Aoife, the Aurum Collections has something for everyone.
The superior rose gold and chrome finishes of the showers make every shower a liberating one. The premium finish of these products are achieved through the PVD technique (physical vapour deposition), wherein a coating of vapourised solid material is applied to avoid tarnishing and wear and tear.
The Alana range of faucets is inspired by the lotus flower, showing us that beauty in nature does not just lie in its colours, but also in its geometrical patterns. Aoife, the stunning combination of chrome and gold, is inspired by the Irish warrior princess. Chime is a range of Rose Gold faucets that are a perfect blend of art and science. The surreal finish of the product is complemented just as well with its flawless engineering. The Arius and Agalia range of faucets come in a handful of colours, including gunmetal, gunmetal purple, chrome, and rose gold faucets. While the subtle lines of the Agalia range of faucets are inspired by the serene rising sun, Arius is inspired by the boldness and glory of the Almighty.
Besides the colourful faucets, the Aurum Collections also includes a stunning range of sanitaryware ranging from Art Basins to toilets in Matte Black and Matte White finishes. Not just this, Kerovit has now launched a range of bathroom accessories to complement the Aurum Collections and make every inch of the bathroom space more magical and colourful as a whole. Some of these accessories include towel rails, soap dishes, tumbler holders, etc.
As we celebrate the spring, its vibrant spirit and the countless colours of India, breathe life into the bathroom and bring a Symphony of Colours home with the Aurum Collections.