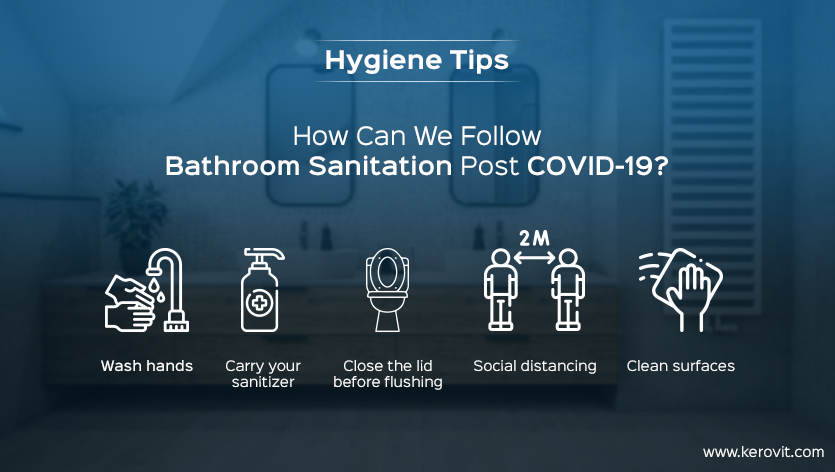 How Can We Follow Bathroom Sanitation Post COVID-19? – Hygiene Tips
At this time, different parts of the country are experiencing different levels of the coronavirus and everyone needs to be prepared. Targeting hygiene practices can go a long way to help to keep families safe. It is especially important now to make sure cleaning and hygiene precautions are not just being done, but being done correctly, to ensure effectiveness. Now with the prevailing risk of COVID-19, bathroom hygiene has never been as important as we emphasize today. This pandemic has made everyone prioritize hygiene and social distancing.
Covid-19 has triggered introduction for building codes and design innovation for future structures, including washrooms, for complying with the infection control measures. This has introduced new opportunities for greater innovations like sensor faucet, fully self-cleaning cubicles, designing doors that don't require human contact. Boosting public confidence in the cleanliness of public bathrooms is essential for post-pandemic recovery.
Virus can quickly spread from one person to another, from one object to another, if hygiene standards aren't adequately maintained — creating health hazards for families in the home, co-workers in the workplaces, and commoners in public washrooms. WHO instructs the commoners on how to keep themselves protected from the virus. Few bathroom sanitation precautions that everyone must adopt are:
Wash hands frequently: Everyone should wash their hands thoroughly using liquid soap, and not with conventional soap bars. Try not touching faucets, handlebars, and doors. Instead, use paper towels for reaching essential items in the washroom.
Carry your sanitizer/Soap: It's quite essential carrying your sanitizer bottle/Paper Soaps even if it's available in the bathroom. Conventional mediums of virus spreads are soap bars and soap dispensers that people share in public restrooms.
Close the lid before flushing: Make sure to close the toilet lid before flushing for avoiding water sprinkles. If the toilet seat doesn't have any covers, keep your face away from the toilet seat, and exit as quickly as possible.
Practice social distancing: Standing in dense queues without keeping yourself socially distanced may increase your risk of getting infected. Standing in queues, while maintaining social distancing as recommended by WHO.
Clean surfaces: One must use disinfecting wipes and antimicrobial clothes for cleaning any surface that children, and adults as well, may touch at home and shared bathrooms. Be sure to use hand sanitizers and wiping your phone and wallet with antimicrobial wipes.
Always stay positive with your hygienic habits and negative with COVID-19 infection. Better days will surely come. Till then, follow the healthy practices.