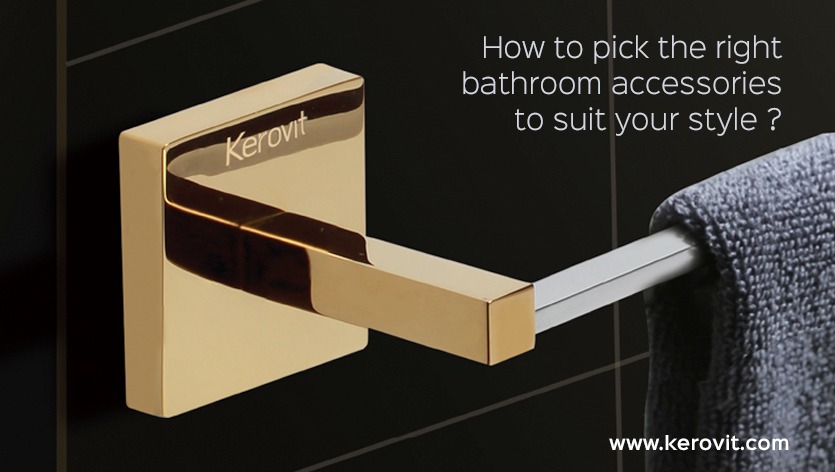 How to pick the right bathroom accessories to suit your style
Due to the focus on some of the 'larger' components, bathroom accessories are often neglected during the initial planning stages while making a bathroom. This is where most people go wrong. While bathroom accessories might not seem like important elements, they add a level of functionality to the place like no other can. Not to forget, they also hold the potential to make or break the entire look of the space.
Here are some bathroom accessories that are available from the house of Kerovit:

– Towel Rails
– Towel Racks
– Soap Dispensers
– Robe Hooks
– Soap Dishes
– Towel Rings
– Tumbler Holders
– Toilet Paper Holders

While many might feel like these bathroom accessories are tiny components of a bathroom and don't have a massive impact on the overall look, the fact is quite the opposite. If executed properly, the correct bathroom accessories can elevate the space's aesthetic value to quite a few notches. 
Here are a few things to keep in mind while choosing the right accessories:
– Existing style
Ensure that the bathroom accessories you choose complement your existing style and elements. The right accessories can be chosen based on the kind of system that already exists. For example, the new range of bathroom accessories under the Aurum Collections by Kerovit from the house of Kajaria is an ideal example of how bathroom accessories can sync with the existing products in terms of quality, style, finishing, colours, etc. 
Even a slight disconnect between the design in place and the accessories can have detrimental effects on the overall look. This is why it's important to figure out what bathroom accessories are needed and lock them with the other elements.
– Similar Finishing
No matter how many accessories you might want in your bathroom, (some bathrooms have many, some are extremely minimal), it's important that all of them follow a similar finish and style. This is important so that there isn't a massive disconnect in the accessories. Commonality is  what makes these accessories stand out whilst blending in. It gives the impression that great thought has been given and the attention to details was spared to these accessories that many people put up randomly and end up with mediocre designs and aesthetics.
– Functionality
Different bathroom accessories have different functions and might not be suited for every individual. There is no 'one-size-fits-all' concept that works when it comes to bathroom accessories. One needs to pick and choose them based on the purpose they serve and whether they need that function in the bathroom space.
– Wall and floor finishing
Bathroom fixtures aren't the only things that need to be kept in mind while deciding on bathroom accessories, your overall interior design plan plays a crucial role in the process. 
These accessories can add more aesthetic value to your bathroom and complement the overall look and feel created by your faucets and sanitaryware. 
With the launch of the premium accessories by Kerovit under the Aurum Collections, you can now make every inch of your bathroom a marvel and turn it into a space for inspiration.