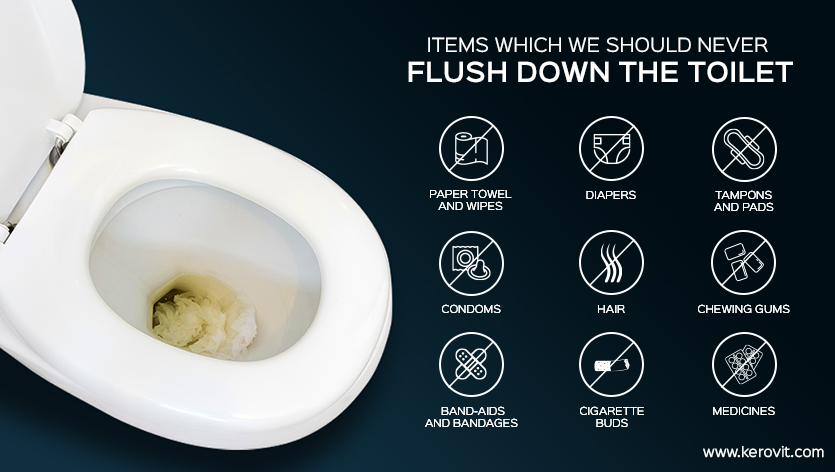 Items Which We Should Never Flush Down The Toilet
A toilet is one of the most used seats in your home. Not everything can be flushed down the toilet. There are just two things that should be flushed: human waste and urine. As toilets are constantly used, flushing always has to be a task taken complete care of. So, in this blog, we will tell you what all NOT to flush down your toilet.
Some common items that shouldn't be flush down the toilet
Paper Towel and Wipes
Paper towel and wipes should never go down in the toilets and are the worst problems responsible for causing blockages all over the globe. Both do no easily dissolve with water and go down with sewer lines causing a negative impact on the whole process of sewage treatment.
Diapers
Indeed, there are still individuals who flush diapers down the toilet. Furthermore, the individuals who do it will clog your toilet in the blink of an eye. To deteriorate, present-day child diapers are produced using materials that will extend when in contact with water. Attempting to flush these diapers is a staggeringly normal reason for genuine clogging of pipes which can later need professional help. That's why it's better that you avoid this issue.
Tampons and Pads
The disposal of female items has consistently been an issue for ladies. But at the same time, they're an issue for plumbing since they can quickly deter the pipes. Wrap your pads or, put them in a little clean sanitary bag, and afterward dump them in the dustbin.
Condoms
Not just it is disturbing in light of the fact that they end up in open public waterways, but at the same time, they're non-biodegradable. Latex causes serious issues in the sewer system, so keep it hidden and dump it in the trash.
Hair
Because it's a natural matter, it doesn't mean it won't hurt your environment. Shockingly, it does. Hair helps structure monster balls which make huge blockages in the sewage system yet, in addition, traps undesirable odors in your pipes. At whatever point you're brushing your hair or cleaning your brushes, make sure to get it far from the toilet seat.
Chewing Gums
As a durable substance, chewing gums is somewhat similar to glue. Also, it gets stuck out in the channels, blocking the regular flow of wastewater. It's best that chewing gums are thrown in the dustbin.
Band-Aids and bandages
Bandages and band-aids are basically produced using non-biodegradable plastic, and they shouldn't be flushed down the toilet. Their place is in the dustbin not in your toilet seat.
Cigarette Buds
Cigarette buds are a plague. They're all over – in the city, and in the water. A cigarette bud comprises of a filter that is produced using cellulose acetic acid derivation, two layers of wrapping made of paper as well as rayon, nicotine, cancer-causing agents, and several poisons. It can clog your toilet in a very bad way.
Medicines
Expired medicines or as of late utilized pharmaceuticals ought to never be flushed down the toilet since they will pollute the wastewater much more. At last, it will toxically affect the water assets and the water you drink. Along these lines, in the event that you have pills, tranquilizers, anti-toxins, antidepressants, painkillers, and different medications that you need to dispose of, simply empty them into a sack, close it, and toss it in the trash.
Now that you're mindful and aware of what you ought to and shouldn't flush down your toilet, we would all be able to take somewhat more safety measures and obligations when utilizing a toilet.