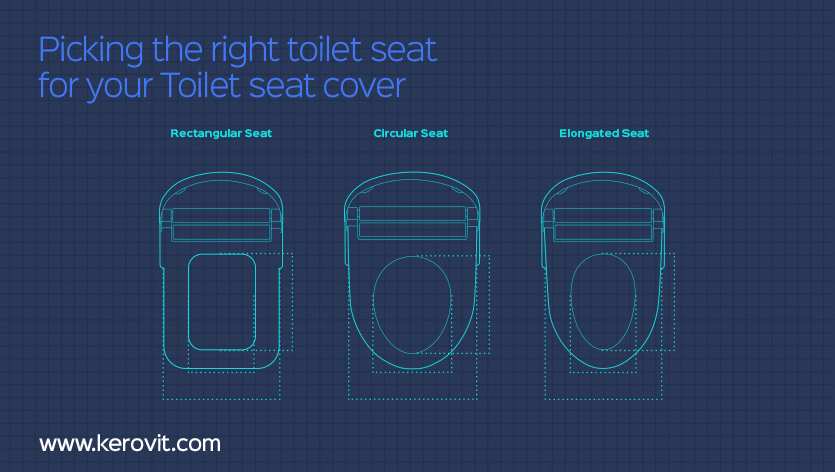 Picking the right toilet seat for your bathroom
While it may seem like a simple task, picking the right toilet seat for your bathroom depends on various factors and requires some thought in order to bring the best out of the space in terms of appearance as well as utility. Besides the overall look of the bathroom, the right toilet seat depends on its shape, functions, and additional features that might appeal to the user.
Shape
One of the most important things to keep in mind while buying a toilet seat is its shape. These can broadly be divided into 3 different categories:
– Round: Probably the common shape you'll find for a toilet seat. The main reason behind this is the fact that these seats take up less space and are ideal for bathrooms with a space constraint.
– Oval or elongated: These are longer toilet seats and have been considered to be more comfortable by many users. However, they can sometimes cost more than round toilet seats because of their unique shape. Unlike round-shaped toilet seats, these aren't ideal for smaller bathrooms. 
– Rectangular: This shape is far more prominent in wall-hung toilets and is largely dependent on the overall design of your bathroom. Angular shaped toilets with a square toilet seat are ideal for creating a contemporary look.
Features:
– Smart toilet seats: When it comes to a toilet seat that can give you a world of features. Smart toilet seats are the way to go. These seats can often be installed on most commodes (Circular – Abby (KB018), Dew (KS128), Klaret (KB09027), Sant0 (KS704), Vera (KB3026), Kole (KB 344), Kune (KB326), Denis (KS130), Titan (KB09029)  Elongated – Santo (KS704), Vera (KB3026), Kune (KB 326) ) so you can easily enjoy the different water temperatures for cleanse, dryer and spa features. The Sensa Smartwash toilet seat is one such smart toilet seat that has set the benchmark in the category.
– Quick release seats: If you hate trying to clean all those hard to reach spots under or around the seat, a quick release toilet seat is a must-have for you. This feature allows you to remove the seat completely to make cleaning nearly effortless. Simply pop it off, clean the surface, then put it back on when you're done. It's that easy!
– Soft close lids: Soft close toilets not only rid your home of that abrupt and obnoxious noise of a slamming lid, but they also help make it easier to clean. With a soft-close seat, you simply have to tap the toilet lid and it will gently close all on its own, and do so without waking up the entire house.