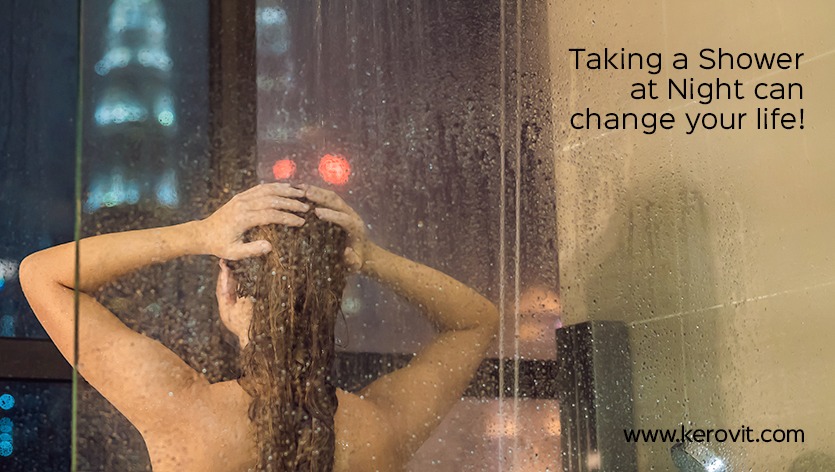 Taking a Shower at Night can change your life!
Most people believe that taking a shower in the morning is the right thing to do. This is majorly because that's how it has been done since time immemorial. Contrary to what most people might believe, taking a shower at night has more health benefits that are backed by science. While personal hygiene is the main reason why many people might prefer to take a shower after returning from a hectic day at work, there are several other health and physiological benefits too. Let us make our case why taking a shower at night is more beneficial to your health. Read along and find out for yourself.
Get Rid of the Bacteria:
After having a tiresome day, travelling in traffic, going through the pollution and the heat, taking a shower at night is proven to be very healthy. A warm shower has not only been known to relieve arthritic pain but when you shower at night, you get rid of all the grit and bacteria you might have accumulated during the day, preventing body odor, and skin infections. 
Keep Your Bed Clean:
Believe it or not, your hair collects huge amounts of bacteria in a day. If you don't take a shower before heading to the bed, it could contaminate your bedsheet and pillow. Taking a shower before retiring for the day not only helps you with your hygiene but also keeps your bedsheet and pillow clean. This way you don't introduce allergens to your bed and can lead a healthier life.
Uplift Your Mood:
Taking a shower after having a long and tiring day is scientifically proven to eliminate harmful toxins from your body. If you are one of those people who enjoy taking a shower, singing and dancing along, it will help in releasing hormones in your body that will immediately cheer you up. We are aware that showering freshens you up, reducing or even eliminating stress. You can use different kinds of showers in your bathroom like, the overhead shower, a jacuzzi, or the handheld shower. A night shower is also scientifically proven to improve blood circulation and regulate blood pressure, and heart rate, thereby improving cardiac health.
Relax Your Body:
It is important for you to be stress-free in order to have a sound sleep and we are aware how important a good night's sleep is. Taking a shower at night reduces bodily tension, and stress, and enables your internal organs to function properly. Another advantage with taking a night shower is that it helps to slow down your metabolic rate and the relaxed muscles ensure you have a sound sleep. A morning shower can really help freshen you up and boost you to face the day ahead,  but showering at night can help relax your body and improve your sleep. 
Get Healthier Skin:
The struggles of everyday ensure that your skin gathers oil and sweat. Deciding to go to bed without taking a night shower can affect your skin adversely. Cleansing your skin before going to bed ensures removal of excess oil and grit from your skin. Taking a shower at night unclogs the pores, resulting in glowing skin. You can also prevent acne and pimple breakouts by showering at night. Another advantage with night showers is that it helps remove external stimuli from your skin's surface, keeping your growth and sex hormones in a perfect balance. Using perfect shower combinations and bath oils, you can get the most out of a night shower.
Other Benefits:
Showering at night means you get extra time that you can utilize in the morning. Maybe sleep for some more time in the morning or read that newspaper before heading out for the day. A cold shower at night helps you boost your immune system, stimulates anti-depression hormones, reduces hair-loss and frees up your mind. Taking a warm shower at night relaxes the muscles, reduces anxiety, and alleviates migraine. 
We hope these benefits inspire you to swap your morning shower with a life-bettering night shower. Try it, trust us, you will not regret it.