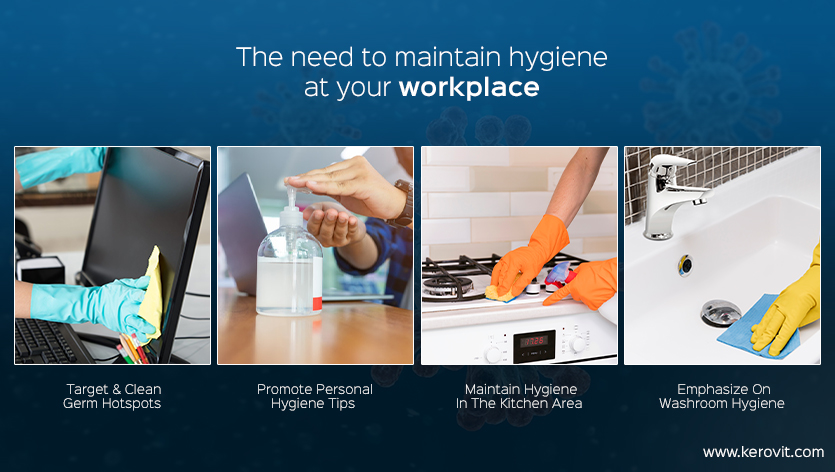 The Need to Maintain Hygiene At Your Workplace
Now with the prevailing circumstances due to COVID-19, workplace hygiene is the most important area to be emphasized upon. Bacteria's and viruses can quickly spread from one person to another — from one object to another — from unwashed hands to foods, creating health hazards for all other employees working together.
Salmonella, E.Coli, Campylobacter and Staphylococcus are few viruses worth naming. And now, this COVID-19! Work employees who don't pay attention towards the best hygiene practices often risk fellow employees, customers & visitors at the risk of viral contamination. The same applies to food items and drinkables, where unwashed hands may lead to virus spreading.
Individual workplace must implement essential hygiene policies. For instance, specific tasks and industries may also create further risks that require added safety measure. Below are some basic hygiene practices that every workplace should implement in order to maintain cleanliness and reduced chances for contamination and close-contact infections.
Few Precautions Employees & Leaders Must Consider Are
Target & Clean Germ Hotspots
Micro-organisms can't unusually multiply on surfaces without support. They heavily rely on people moving around, keeping hands on furniture, objects & daily-essentials, and transferring them from one surface to another – from the work desk to the lunch table. Employees must avoid such unhealthy practices by paying close attention towards everyday items they touch.
Railings, door handles, and work equipment are considered "hotspots" from where the bacterial growth multiplies. Before touching equipment, especially stuffs that are shared among teammates, employees should use sanitizer. Also, keep antimicrobial wipes handy for banishing bacteria and viruses after you've touched any object or shared among teammates.
Time taken for cleaning equipment may lead towards less productivity, but at least, these healthy, hygiene practices might contribute towards saving lives.
Promote Personal Hygiene Tips
Employees should be encouraged about hygiene practices at their workplaces. Remind them of the importance of frequently sanitizing their hands and keep daily-essentials cleaned up using antimicrobial wipes. Being the fellow leader, teammate, or even boss, workers must encourage these habits by showcasing posters in relevant areas throughout the workplace.
Maintain Hygiene In The Kitchen Area
Kitchen area, lunch table, and utensils pose the highest risk for contamination, if standards are not maintained. Cooking areas, ovens, utensils, crockery, and appliances like fridges, microwaves, and toasters should be kept scrupulously clean. Again, these are good practices for involving workers in collective responsibility and encourage staffs for keeping themselves safe.