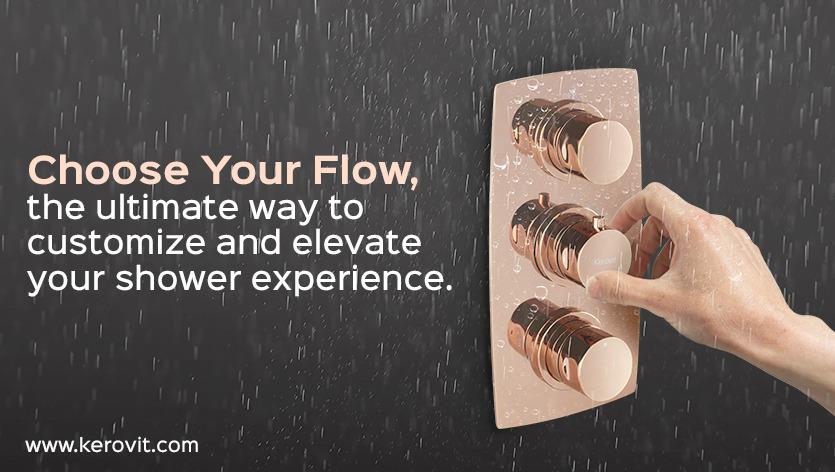 Thermostat: Choose your flow
As the chilly winds of winter howl outside and the warmth of your home beckons, there's nothing quite like the feeling of stepping into a hot shower after a long day. But what if we told you that your shower experience could be even better? Let's make you familiar with Kerovit's Thermostat: Choose Your Flow, the ultimate way to customize and elevate your bathing experience.
Imagine being able to control the flow and temperature of the water while bathing. The thermo control device is set to 38 °c, the ideal temperature for insulation.
Additionally, there is a dedicated button that you can use to reverse this option if required.
You can select the shape of the Thermostat from square or round to enhance the aesthetics of your bathroom. No more scalding hot water or bone-chilling cold water. With the Thermostat, you can enjoy a shower that is tailored to your exact preferences.
But the Thermostat isn't just about convenience and luxury, it's also about saving money and being environmentally friendly. The Thermostat's flow control settings allow you to conserve water, reducing your overall water usage and saving you money on your water bill. And with its precision temperature control system, you'll never have to waste water waiting for it to heat up or cool down.
With its sleek, modern design and easy-to-use mechanics, the Thermostat is the perfect addition to any bathroom. It's compatible with any shower head, and installing it at your home means you can have it up and running in a significant amount of time.
So why settle for a boring, standard shower when you can elevate your experience with Kerovit's Thermostat: Choose Your Flow? With its customizable flow and temperature settings, precision control system, and money and water-saving features, the Thermostat is the ultimate way to upgrade your shower. The Colour options that are available include chrome, champagne gold, rose gold, gunmetal & gunmetal purple. We give you the freedom to choose the colour as you please. Well, not just this, Kerovit offers 2 way, 4 way and 6 way thermostat because why resist yourself from getting the flow just from one side? So go ahead, choose your flow and elevate your shower experience today with Kerovit's Thermostat.