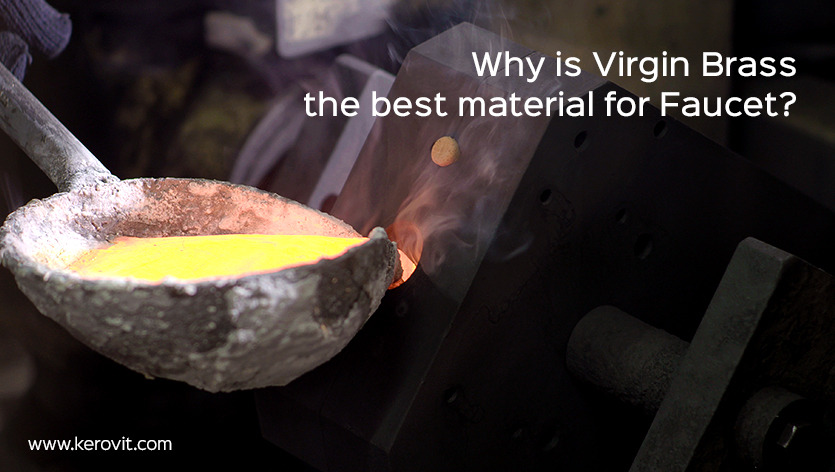 Why is Virgin Brass the best material for Faucet?
Taps are an essential partof the bathroom, both functionally and aesthetically. Visually, the design ofthe faucet can impact the overall look and feel of the bathroom. Given the fact that there are numerous options to choose from, which material should you use for the bathroom faucet then, becomes an important question. The characteristics that should be considered before choosing the material for your faucet include:
1.   Appearance
2.   Hygiene
3.   Material Composition
4.   Material Strength
5.   Maintenance
6.   Price
Virgin Brass Faucet:
Faucets made up of virgin brass are very popular among interior decorators. Brass is a generic term used to represent a range of copper-zinc alloys. It is known for the following properties:
1.   Strength
2.   Ductility
3.   Hardness
4.   Electrical and Thermal conductivity
5.   Corrosion Resistance
6.   Wear-Resistance
Along with these properties, virgin brass gives a very vintage and classy look. It helps improve the aura of your bathroom aesthetically. By varying the composition of the elements, the look and feel of the faucet can be varied. Brass has a range of attractive colors depending upon the composition of the metals. Some of the most widely used colors for brass faucet are golden, bronze, silver, brown, etc.
Benefits of Virgin Brass Faucet:
Brass faucet has always been used for traditional or heritage style bathrooms. More recently, brass faucet has made a place for itself in contemporary bathrooms as well. If you have a bathroom that has a cool tone, navy blue or grey color, brass can warm the interior and create a balanced look. Virgin brass is available in two finishes:
1.   Polished Virgin Brass: Offers a shiny look and feel
2.   Brushed Virgin Brass: Offers a slightly worn out look and feel
The more popular one is polished brass. Now, let's get straight to the point. The major benefits of using Virgin Brass Faucet in your bathroom are:
1.   Wear-Resistant: Virgin brass is known for its strength. It is the perfect blend of functionality and looks. This is a much sought after characteristic in materials that are used for bathroom faucets. Compared to most of the recycled materials that manufacturers use for faucets, brass faucets are popular for their longevity. Once you have invested in a brass faucet, you can rest assured that it will stand the influences of time and wear and tear.
2.   Hygienic: Brass is known to kill germs, it is germicidal. So along with being wear-resistant and lasting for an extended amount of time, it also gets rid of the germs. What else do you need in a faucet material?
3.   Durable: Brass faucets are more resistant to corrosion than any other type of faucet material out there. Hard water is known to corrode materials used for designing interiors of a bathroom. So, if you have hard water in your bathroom, make sure your faucet is made out of virgin brass.
4.   Aesthetically attractive: Brass being an alloy of copper and zinc, it has a more attractive appearance than pure copper and bronze. Virgin brass is golden in colour and hence is used for decorations and interior designs. By altering the composition of the metals, along with different properties, you can also obtain a variety of colours. You can use brass fittings all over your bathroom, your basin, your toilet, your shower, to make it aesthetically more pleasing.
5.   Withstands high temperature: Brass is capable of withstanding extremely high Temperatures, infact, brass is fire resistant. Brass faucet would be the best suited for the hot water distribution in your bathroom.
We hope we have helped you understand why Virgin Brass is the best material for faucet in your bathroom. When you plan to design the bathroom of your dreams, or when you plan to renovate your bathroom, make sure you consider Virgin Brass for your bathroom fittings.