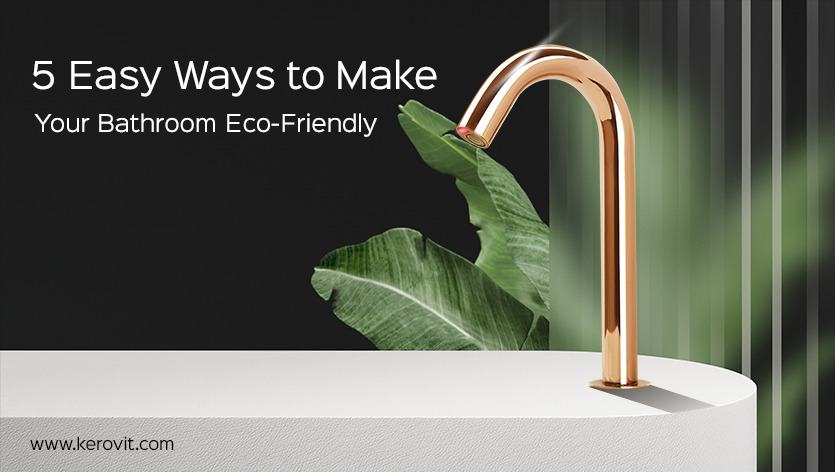 5 Easy Ways to Make Your Bathroom Eco-Friendly
The room in your house that gets the most traffic in the day is the bathroom. It is the first place you go in the morning and probably the last place to visit before bed too. It becomes that much more important to have a clean bathroom that is eco-friendly, without toxic chemicals and harmful substances.
It would surprise you immensely to realize the number of benefits that an eco-friendly bathroom brings to the table. The most obvious one is reducing your impact on the environment to save the planet. Another major benefit of an eco-friendly bathroom is that it helps you reduce the amount of waste. We at Kerovit realize our responsibilities towards the environment. In response we have come up with a Green innovation range of products that offer advanced solutions for water and energy savings. Our flagship faucets, showers, and toilets have been designed by coordinating products and technologies that save water upto 60%.
We have compiled a list of benefits of putting efforts to make an eco-friendly bathroom below:
– Healthy Indoor Environment: Interchange the toxic chemicals and harmful substances with organic products
– Cost-Efficient: Planning to utilize water and energy better without wastage. Our sensor faucets will help you utilize water efficiently.
– Reduced Carbon Footprint: Use climate-friendly products and energy-efficient appliances.
– Using Reusable and Recyclable products: Reducing the amount of waste generated.
Contrary to what most people believe, making your bathroom eco-friendly is not a complex task. It begins with small habits and choices you make. We are here to help you with 5 easy ways to make your bathroom eco-friendly, just know that small actions and choices you make will be the initial steps to bring about this change. Here are 5 easy ways to make your bathroom clean and green!
1. Upgrade to eco-friendly accessories: It is important to be aware of the structures and appliances used in your bathroom and how they can be upgraded to save resources and money and still have an eco-friendly impact. Consider the following examples:
– Upgrading to shower heads with aerators can reduce the amount of water used by up to 30%
– Use eco-friendly, reusable products like towels, rags, toilet cleaning brushes, etc.
– Swap light bulbs with energy-efficient LED bulbs
– Use eco-friendly personal care items like shampoo, toothpaste, soap, etc.
2. Use water judiciously: Amount of freshwater available to use is a very small percentage, and out of that much of it has been polluted. Water as a resource is needed to be protected, for our survival. You can save water in your bathroom in several ways, to reduce your water bill. First off, you can start by taking a shower instead of using excess water in the bathtub, as showers use 14 percent of water used in baths. Fix leaking faucets and toilets to prevent wastage of water. Investing in a dual flush system for your toilet, that provides options for flushing levels can also help to save water significantly
3. Use eco-friendly cleaning products: Toxic chemicals and harmful substances used for cleaning are prevalent in most households that can impact the health of the family, hence it is important to find eco-friendly alternatives to these harmful substances to save your family from being exposed to them and also reduce harmful waste generation. Using cruelty-free, plant-based products can help reduce the discharge of toxic waste into the water and also protect your skin and body against harmful reactions
4. Use proper ventilation: Ventilation is extremely important for an eco-friendly bathroom. Without proper ventilation, moisture, airborne irritants, and odors get stuck in the bathroom. This can make the bathroom environment unhealthy. The trapped moisture in the bathroom can result in the formation of mold, which can be harmful to your health. A ventilation fan can help you tackle this issue. Also, plants are natural air purifiers and they are aesthetically pleasing too. Using a low-maintenance plant in the bathroom can help you keep the environment healthy and eco-friendly
5. Be energy efficient: There are several tips to be energy efficient and make your bathroom eco-friendly. As mentioned before, you should swap all your incandescent bulbs with energy-efficient LED bulbs. LEDs are more cost-effective and also generate much less heat. Another tip is to use tankless water heaters in your bathroom. These water heaters heat the flowing water instantaneously and unlike a tanked water heater they do not retain water internally. They can help save a significant amount of energy and your electricity bill.
Your bathroom should be a healthy space and not a toxic one. The benefits and the tips mentioned can help you make your bathroom eco-friendly and sustainable. What are you waiting for? Go green in your bathroom!