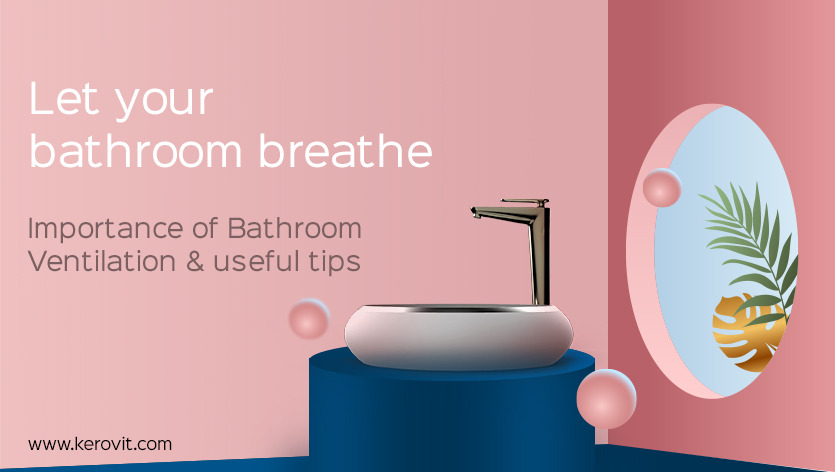 Let your bathroom breathe-Importance of Bathroom Ventilation & useful tips
"Just breathe, everything is going to be fine", are the words everyone must have heard at least once in their life. Well, believe it or not, this saying applies to bathrooms as well! Yes, you heard it right, letting your bathroom breathe, is extremely beneficial, more than you might think. In this blog, we'll outline the major benefits of proper bathroom ventilation, how you can ventilate your bathroom, and some related tips. Sit back, just breathe and enjoy reading! 
Here are some benefits of bathroom ventilation:
1.  Reduces mold and protects your bathroom:
Excess moisture in your bathroom can potentially harm the bathroom walls and ceiling, resulting in the formation of mold. When you let your bathroom breathe and improve ventilation, you can stop mold from appearing. Hence, a squeaky clean bathroom! Having a good ventilation system reduces condensation and mold, and protects your walls from peeling. It helps in maintaining the aesthetics of your bathroom, which is very important, we know!
2. Improves air quality:
You might have the best bathroom accessories, sanitaryware, health faucets, hand showers, and toilet seats, but if the air in your bathroom is contaminated, it can cause serious health issues. Proper ventilation will reduce the contaminants in the air, improve air quality and remove unpleasant odors. 
Now let us talk about how to ventilate a bathroom and some tips on how to improve ventilation:
1. Extractor Fans:
They are designed to extract the moisture, odor, and stale air from your bathroom to the outside. There are different types of extractor fans based on the distance between the fan and how far the air must travel to reach outside. For longer distances, centrifugal and inline fans are used, and axial fans are designed for shorter distances.
2. Dehumidifier:
 As the name suggests, a dehumidifier extracts humidity from the bathroom air and traps condensation, not allowing it to spread around the room. It is ideal for smaller, or windowless bathrooms. It protects the walls, the bathroom elements like health faucets, shower heads, faucets, toilets and wash basins.
3. Open a window:
Opening a window or door increases the circulation of fresh air around the bathroom and allows it to breathe. This is not a permanent solution, as leaving your window open day and night is not a practical option. Hence, it is recommended to install a fan or a dehumidifier in your bathroom.
4. Upgrade to a moisture detection fan: 
Yes, you heard it right! A moisture detection fan works with a humidity sensor as opposed to a timer. It won't turn off until the humidity level has been restored to the optimal level. Do you know what the best part is? These fans tend to be quieter when operating. 
5. The cleaner the fan, the better: 
Take a microfibre cloth or a damp sponge to clean out the fan. Leave your fan running for at least 15 minutes after your bath or shower. Allow the extractor fan to do its job and remove all the moisture from the room. 
6. Wipe the water: 
Don't allow water to collect and form puddles in your bathroom. Wipe it up as soon as you notice it, to make sure your bathroom dries out quickly. 
7. Let the towels hang-out: 
Hanging wet towels in a damp bathroom does not sound like a good idea, right? It's really not! This will only add extra moisture to the room. Make sure you hang your wet towels outside in the sun. 
There you go, we have given you several reasons to make ventilation in the bathroom a priority. Want a squeaky clean, aesthetically pleasing bathroom? Just let your bathroom breathe!