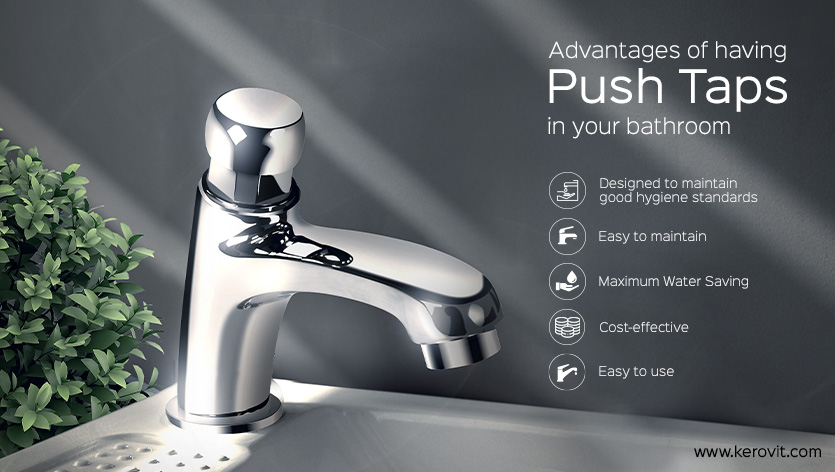 Advantages of Having Push Taps in Your Bathroom
A push tap is a type of faucet that can be operated by just pushing a button in order to activate the water flow. It's a self-closing faucet which if once activated, emits water for a short interval of time and automatically shuts off after 8-10 seconds. Push Taps are commonly also referred to as non-concussive taps. Push taps are designed to control wastage of water caused due to human laxity.
With the technology of the push taps to switch them off automatically, eliminates the risk of the tap being left on by a user. These taps ensure appropriate cleanliness as the user doesn't have to contact the tap after washing their hands.
These taps are the developed under Green Innovation which aims at conserving water.
Features of Push Taps
Designed to maintain good hygiene standards
The most hygienic option for washing of hands is having push taps. This is the best in order to avoid cross-contamination. Installing push taps in hospitals and restaurants is advisable.
Easy to maintain
Regular taps are subjected to more wear and tear in daily use. But with push taps, as they automatically turn off, they don't get easily damaged. Also, as the tap doesn't need to be shut with wet hands, so no water gets trickle down the taps to damage the functionality.
Maximum Water Saving
Push taps are more water-saving when compared to the other taps because they have a controlled water stream which limits the water use.
Cost-effective
Push taps are the cost-effective solutions we all need as they reduce water consumption and also improve and maintain hygiene.
Easy to use
These are very user-friendly as the users don't have to worry about closing the faucet. Push taps can be easily installed in hospitals, educational institutions, hotels etc. where due to large usage may lead to wastage of water.
For further details, you can Check our Green Innovation premium line of Push Taps to equip in your bathroom.