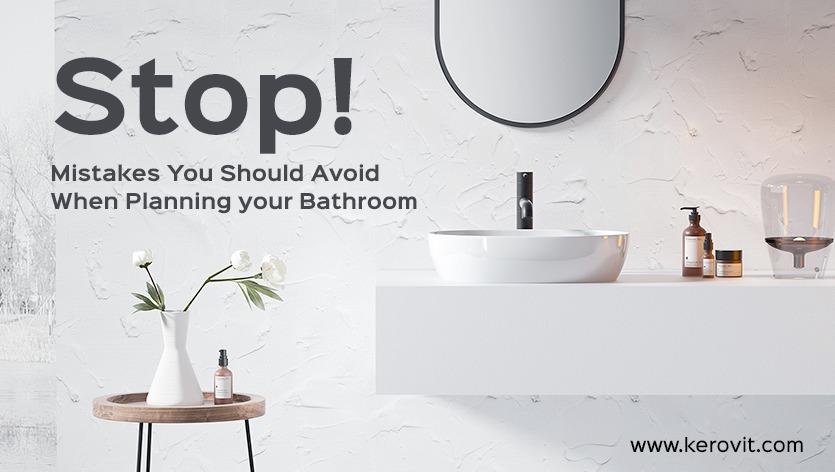 Stop! – Mistakes You Should Avoid When Planning your Bathroom
When it comes to planning a new bathroom, one would obviously want to make the most of the space that is available. Getting your bathroom design the way you want the first time keeps both the stress levels and expenditure low! A simple way of doing this is to steer clear of typical mistakes that people make. Here, we share the most common mistakes made and also offer advice on how some things could be done differently. 
Wrong Sanitaryware
When designing our dream bathroom, we often do not have a large and spacious room to fill. With a limited amount of space, do avoid having sanitaryware and bathroom fixtures which overcrowd and dominate the entire room. One of the most used seats in your home is the toilet. Everyone wants their toilet to be clean and comfortable. Kerovit's ingeniously crafted toilets are available in a plethora of shapes, sizes and styles. From contemporary smart toilets to extravagant wall-hung pieces, we make sure you find one that perfectly fits your space. 
One Light Source
A very common mistake is to think about lighting at the end of your bathroom planning process, almost as an afterthought. Poor and insufficient lighting affects the look of your bathroom and is not entirely practical for day-to-day use. Natural light is the optimal option for maximising the quantity of light you get in a bathroom. The sun's warm, brilliant light enters a bathroom through windows, adding a wonderful source of visibility to the space. Establishing zones in your bathrooms helps draw attention to and highlight certain fixtures. A complete and fabulous bathroom design does include different forms of lighting in the form of feature, task, accent, and vanity lighting. 
Wrong Kind of Flooring 
Another very common mistake lies in bathroom flooring. Often people end up choosing and installing bathroom flooring that is not practical for the conditions increasing the risk of slipping or damage in a small duration of time. A bathroom has to contend with the house's floor traffic. Therefore, choosing a hard-wearing flooring choice is essential. A thoughtful amalgamation of hard-wearing and practical flooring instantly creates a practical and elegant bathroom design. Primarily due to the fact that it caters to all users in the house, creates a strong base for the rest of the bathroom, and is relatively easy to clean and care for. Flooring choices can also be fun if bathroom tiles are used, the predominant choice in the country. Thoughtfully chosen tiles are the perfect way to inject personality into your washroom. 
At Kerovit, you will come across sanitaryware that will break your daily monotony and enhance your bathroom even more. Giving you the freedom to choose what fits your persona and style.