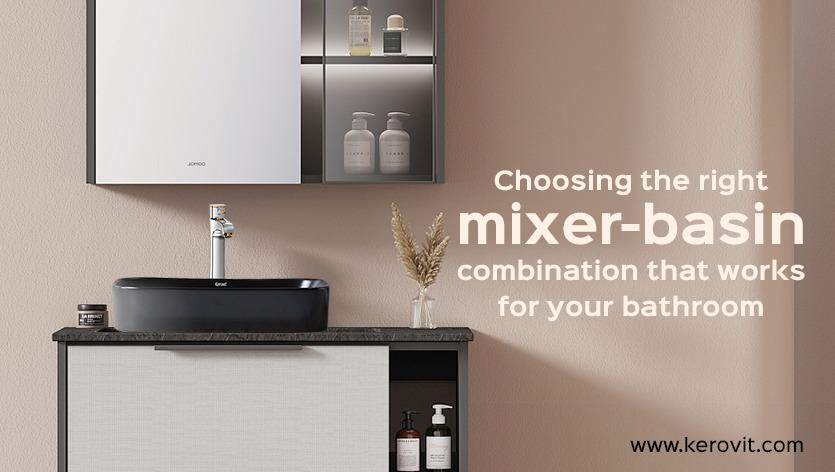 Choosing the right mixer-basin combination that works for your bathroom
You might not believe that the wash basin or sink mixer you choose would have much of an influence on the appearance of your bathroom, but you'd be amazed to find how a good washbasin and sink mixer combination can improve your bathroom space. Today, there are a lot of alternatives accessible, and if you don't have the right information, it may be rather daunting for you.
Unquestionably, one of the crucial components of the bathroom's overall beauty is the wash basin. It gives your bathroom a style that might be fantastic, contemporary, extravagant, or vintage. To choose the finest solution for your bathroom, learn more about each choice.
Here are a few things to consider: 
The size, style, and form of your washbasins will depend on the size and layout of your bathroom. For cramped and tiny bathrooms, corner wash basins are the best option. For big bathrooms, one could select a countertop basin or a pedestal basin. 
Where is your shower and toilet seat located? This is also crucial to think of since you would not want your restroom to be disorganised and messy. Your shower and toilet should be set up without the basin getting in the way. Each sink needs a different installation technique; some may be mounted on the wall and others can be set over furniture. 
Basin mixer faucets, as its name implies, mixes both hot and cold water from a single spout. Basin mixers are perfect for wash basins as long as there is sufficient water pressure. Unlike traditional faucets, which pull hot and cold water individually, a basin mixer mixes hot and cold water to flow out of a single spout. Here are some further guidelines for choosing a bathroom basin mixer.
Basin mixers have a sleek, modern design and are visually pleasing and small. An elegant basin mixer might make your bathroom appear better right away. Basin mixers are useful and simple to operate since they provide you with more control over the water's temperature and volume. We must all agree that varied water temperatures are required for different seasons in India. 
Knowing the advantages basin mixers provide, you must take into account some of the following factors while selecting the best basin mixer. 
A premium chrome treatment is required to protect it from corrosion. When searching for a new sink mixer, the material needs to be your first priority. Kerovit's Aurum Collection is a well-liked choice since it resists corrosion, is beautiful and also simple to maintain.
A bathroom sink mixer should be sturdy and long-lasting.The ideal basin and sink mixer combo is required in every bathroom, but because each one is somewhat different, we at Kerovit offer a wide array of choices that will light up your space.