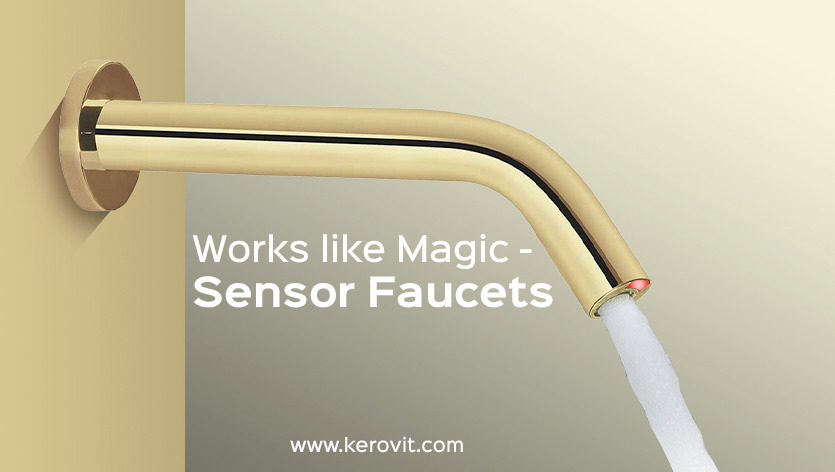 Works like Magic – Sensor Faucets
The urgency of water conservation and sustainable living is no longer a novel concept.  With water resources drying up and the subsequent water shortage, The Sensor Pillar Tap and The Sensor Tap for Washbasins by Kerovit are under our "Green Innovation" campaign to make your beautiful bathrooms smarter. Kerovit's sensor tap senses the user's proximity by using a motion sensor that opens its valve to allow water to flow in response to the user's hands. As soon as the hands are removed, the sensor detects it and closes the valve automatically. The essence of this technology is to use a unique infrared indicator for water flow control that reacts to human hands, switching the faucet on or off accordingly.
 Often called automatic faucets or touchless faucets, sensor faucets were once exclusively found in hotels and airports, and this unique functionality was only limited to a few. Now, one can be easily installed in your bathroom or kitchen. Comfort and usefulness, in tandem with an affordable price, allowed for a gradual move towards home kitchens and washrooms, making it a "must have" device for a modern space. 
The motion detection mechanism helps conserve water making it both, economical and environment friendly. The inherent advantage of the flow shutting off automatically after hand washing reduces the amount of water being wasted. It enables you to be concern-free while lathering your hands with soap. While using the faucet, there is little need to touch it, so the possibility of cross-contamination between different users is also significantly reduced. The lack of touch while using the faucet, especially in the post-Covid era, reduces the transmission of germs and bacteria, making the entire experience clean and hygienic.
 There has been immense advancement in the technology of faucets and valves that impact washroom designs. The Sensor Pillar Tap is exquisite, following contemporary trends in washroom design. In addition to an ergonomic design, sensor faucets without the usual levers and valves have a lot of practical operational advantages.  Significant benefits that come with the installation of sensor faucets include water conservation of up to 70%, increased hygiene, relatively more straightforward maintenance, and affordability make sensor faucets an exciting upgrade for your washroom.
 As a brand, it is our philosophy to bring change to consumers' bathroom experiences along with sustainable and eco-friendly solutions. As we say, Kerovit is freedom, 'R' in freedom stands for responsibility. Get in touch with us now if you also wish to be part of our agenda and bring home Kerovit's range of sensor faucets.