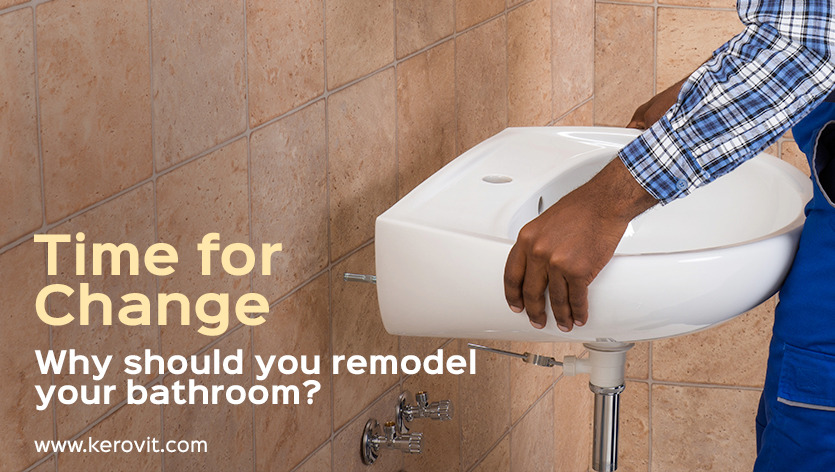 Time for Change – Why should you remodel your bathroom?
One of the most exciting and creative processes you can go through is adding to or remodeling your home. However, with all of that responsibility comes the pressure to make sound decisions that will last. Bathrooms, whether large or small, should always be well thought out and carefully located and should be designed to accommodate multiple users. We're long past the days when there was one bathroom for every three bedrooms and everyone had all the time in the world to use it. Here are some signs that it's finally time to update your space of freedom.
Outdated Design & Aesthetics
Although all-white bathrooms were phased out years ago, many homeowners have yet to update the colour of the room. Powder blue, beige, black, taupe, nautical blue, and pistachio are all vibrant bathroom colours. There have also been major developments in bathroom technology and design. One-piece toilets, sensor faucets, and extensive thermostats are just the beginning of contemporary bathroom fixtures. Elegant and timeless pieces are also now more affordable than ever before.
Dripping Faucets & Leaks
Leaks and mold and mildew are closely associated. Leaks might appear around the toilet or sink, in the shower, or in other places. Where the water is seeping, the walls will frequently have bubbling or peeling paint. In most cases, the steam from the shower or bathtub won't cause the paint to blister or peel. Damage to the ceiling of the room below the bathroom is another indicator. This indicates that water is dripping onto the floor. It could be a dry shower trap, broken drain pipes, a clogged drain, or an old toilet ring. A dripping faucet also results in an increase in your water bill. Not all sinks have washers to effectively stop the flow of water. Leaks can be a costly nuisance. Although replacing a leaking pipe is not a difficult task, it can turn into a messy affair.
Mold & Mildew
Every bathroom uses water in one way or another. Mold could grow as a result, and it prefers moist surroundings. A bathroom with a significant mold problem could smell musty and stale. Mold can be identified by numerous simple symptoms. On the floor or wall, there are frequently blotches of black or green colour. Even the presence of ants in the bathroom may indicate mold problems. Mold in the bathroom not only lowers your bathroom's comfort but also poses a severe health risk.
Odd Layout & Change In Family Needs
Many older homes had the toilet next to the shower or tub, but people now prefer to have the toilet and shower separate. Moving the toilet alters the flow and aesthetic of the room. People, in general, prefer larger bathrooms. Families change and grow over time. A bathroom may have served you well when you were single, but it no longer serves you well when you have two children and a spouse. Perhaps you have grown older in your home and the bathroom now requires more space. There could be a variety of reasons why the family dynamics have shifted and the bathroom no longer serves its purpose in the home.