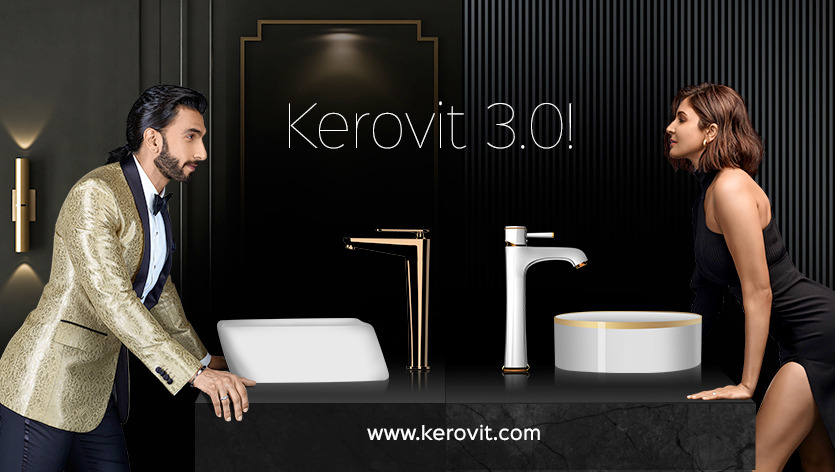 Ranveer & Anushka bring Freedom to life with Kerovit 3.0!
The incredibly talented on-screen duo of Ranveer Singh and Anushka Sharma is back with a bang, for Kerovit 3.0! We're beyond thrilled to welcome Ranveer to the Kerovit family as our co-brand ambassador. Ranveer has always been a sheer embodiment of freedom and his sensational aura perfectly coincides with what our brand stands for. 
To officially introduce the superstar, we decided to dazzle our audience with an iconic TVC, featuring both our brand ambassadors Anushka Sharma and Ranveer Singh. We called the TVC Kerovit 3.0 as an implication of the fact that we have certainly taken our style and personality quotient up a notch and this time around it's three times the impact!! 
What's Kerovit 3.0 all about?
Kerovit 3.0 isn't just another TVC, but the perfect amalgamation of art, youth, aspiration, achievement and emotion, sensationally brought to life by the superstars Ranveer Singh and Anushka Sharma. The idea was to show the world the power of freedom and especially the freedom that one feels in the bathroom. At Kerovit, we have always believed that the bathroom is a safe haven for every person and the idea was to aggressively hammer it in the minds of the viewers that freedom is felt from within and once expressed to its true potential, it can do wonders for you; freedom can take you places.  We always take pride in saying that Kerovit is Freedom and with the success of Kerovit 3.0, we have surely established this expression in the eyes of the world watching, yet again!!
Make way for the Maestro!
As mentioned before, all of us at Kerovit were ecstatic at the official arrival of Ranveer Singh to our family and wanted to announce this in the coolest way ever! Ranveer is someone that inspires a significantly large population of our nation with his electrifying personality which always seems to be exploding with passion and energy. This kind of zeal from the superstar has always been one of the reasons for his huge success and we knew we had to do justice to that, with the right flavour of Kerovit! Once you watch Kerovit 3.0, you would know that Ranveer fit in just like a glove and his performance was just as powerful as the idea of Freedom.
Ranveer, Anushka, Aurum Collections – the iconic trio! 
That's right! Kerovit 3.0 showcases Ranveer and Anushka interacting with our premium range of faucets and sanitaryware, the majestic Aurum Collections (the only spoiler we're giving you!). It's magical to watch how Anushka's enchanting grace and Ranveer's unique style perfectly complemented the look and feel of the Aurum Collections featured products in the video. It filled us with pride and happiness to see how our uniquely designed bathroom products go so well with the idea of Freedom, through our superstar brand ambassadors!
Kerovit 3.0 is out now on all platforms, the world is talking about it, our followers are all praises and if you still haven't watched it, go check it out right away!!