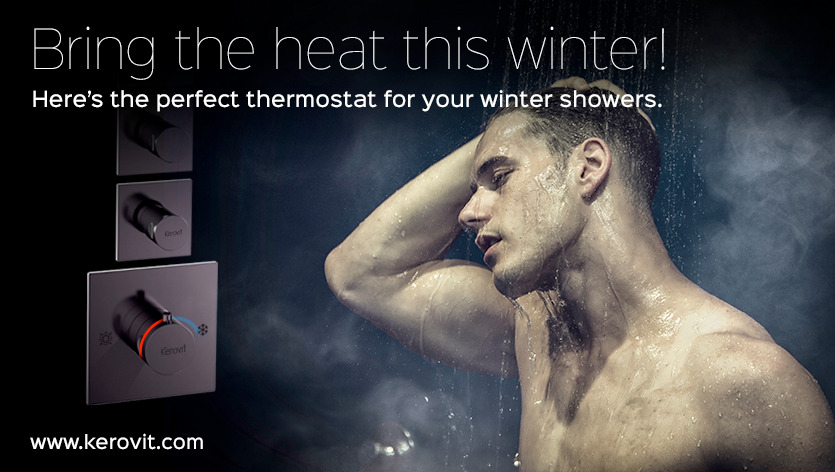 Bring the heat this winter! Here's the perfect thermostat for your winter showers
It's that time of the year, ladies and gentlemen, when we crave warmth! Throughout the year, we express our discomfort over the scorching heat that the nation experiences in most parts. And before we even realize, the transition from taking refreshing cold showers and wearing loose T-shirts to hot showers and hoodie snuggles happens seamlessly as November shows up. There's nothing we crave more than literal 'warmth' to get through the day and one of the most beautiful experiences in the months of winter is taking those irresistible steamy showers in the morning that makes us feel completely rejuvenated.
At Kerovit, we always strive to give you the most heavenly and magical experience every time you step into the bathroom. So, whether it's unbearable heat outside or chilling cold winds, we got your back! Let's tell you about our Thermostatic Mixer, which is available in 2 way, 4 way and 6 way diverters, that'll be your perfect bathroom companion this winter. Keep in mind that your water outlet such as shower head, body jet, hand shower or spouts must be compatible with your thermostat. Please do a thorough check on this beforehand.
Designed to impress
Let's start off by telling you about the brilliance of design that we have used in our multi-flow thermostat with 6 diverters! While it is available in the classic chrome color of the Kerovit range, it also comes in a variety of gorgeous colours as part of the Aurum Collections. So, it goes without saying that the design and overall style quotient of the thermostat is very high and premium. The thermostat is designed to not just serve the purpose in the most convenient way possible, but also to give your bathroom that dreamy luxury aura. We always like to have our customers spoiled for choice and hence this thermostat comes in a premium variety of colours, namely gunmetal purple, chrome gold, rose gold and gunmetal. The minimalistic design of the thermostatic mixer ensures ease of use every time you take a shower.
Choose your flow
As mentioned earlier, our concealed multi-flow thermostatic mixer comes with 2, 4 and 6 diverters. What does that mean? It means you get to choose and play around with six different styles of water flow from multiple connections like a big shower head, body jets, spout or hand showers. Pretty awesome, right? But wait, it gets better! You also get to choose how hot or cold you'd want the water to be and believe us, the process is oh so smooth! Imagine you come back home from a tiring day at work and that morose winter breeze has added to your exhaustion. Just step into the shower and feel like a superhero who can pretty much control the flow of water and the temperature as well; freedom of choice indeed! 
Built to last
With much higher chrome and nickel longevity, the multi-flow thermostat is certainly durable in true essence. It can comfortably endure all kinds of seasons and the flawless shine remains intact all year long. This means you won't be bothered with issues such as rusting or faded shine over a period of time. We understand that luxury is also a feeling and that your bathroom deserves uncompromised quality no matter what! Talking of uncompromised quality, you'd be delighted to also know that the concealed bodies and trims are built for longevity and can easily take more than 5 lac cycles!
No Scalding
Last and certainly not least, the safety aspect that comes with this product is arguably its biggest highlight. Our concealed multi-flow thermostatic mixer has the water temperature locked at 38 degree celsius, which is considered to be the ideal room temperature. This temperature can of course be changed and you can keep a preselected temperature locked in, every time you take a shower. This means that you and your family will never be at the risk of scalding due to any unanticipated temperature increase or drop!
There it is, the perfect thermostat to take your bathing experience to the next level this winter season (and honestly ANY season)!