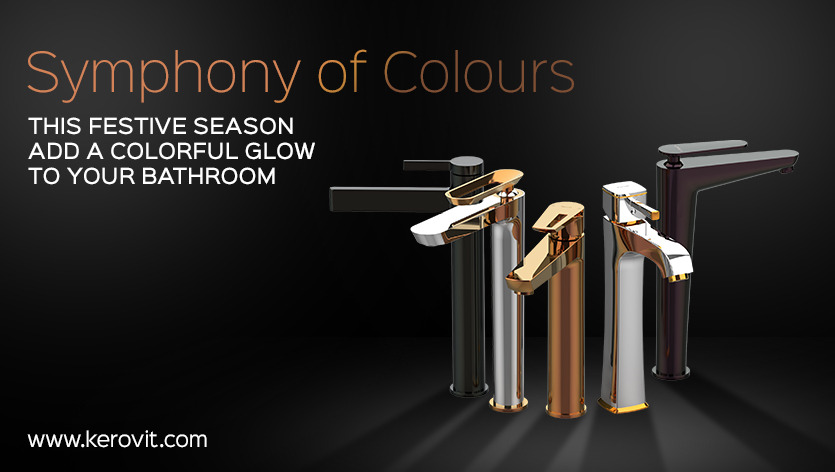 Symphony of Colors – Add a colorful glow to your bathroom this festive season
Imagine a grey sunset, or a black ocean, or even a field of grass that's devoid of its flourishing green colour. Strange, right? That's exactly what our world would be like without the vibrance of colours! At Kerovit, we understand and cherish the beauty that colours can bring into our lives. This affinity with colours is what gave birth to our premium bathware line, the Aurum Collections.
India is a country full of tradition, culture and of course the incredible festivals that lift the spirits of the people. The festive season has returned and Indians are all set to thrive on the celebratory aura; this is the time when we meticulously clean, embellish and even go on shopping sprees to add new items to our homes. Colours and festivals have an eternal connection, especially in India. And if you're beautifying your home, you can't miss out on perhaps the most integral part of your home – the bathroom! This is where you truly enjoy the freedom to be completely yourself.
As you begin the festivities, bring home the Symphony of Colours with Aurum Collections and add a colourful glow to your bathroom. Here's what we have in store for you:
Faucet:
The most premium line up of faucets for building the bathroom of your dreams is right here at Kerovit's Aurum Collections! All the faucets of this collection are designed with sheer passion and love for art, and to bring out the beauty of colours in your bathroom. All our faucets are unique in their own way, only joined by the common thread of class – Alana, Arius, Aoife, Chime, Agalia and the Sensor Faucet that is our contribution to a greener tomorrow. All these faucets are available in a wide array of colours such as Gunmetal, Rose Gold, Gunmetal Purple and the classic Chrome, complimented by PVD coating, so your bathroom glows the same in every season!
Shower:
The season to celebrate is right around the corner and before you step out to celebrate with your friends, family or that special someone, you will surely be visiting your bathroom for a refreshing shower! This time, enjoy it with the Symphony of Colours that our showers boast of. The Big Shower Head, Overhead Shower and even the Body Jet from our Aurum Collections' shower series. Similar to the premium colored faucets, our showers will brighten up your bathroom, with a variety of colours like Rose Gold, Chrome, Gunmetal and even the classy Gunmetal Purple. Shower at night or morning, you'll surely feel the difference!
Toilet:
Our Aurum Collections offer you the most stylish WCs, that make your bathroom stand out with its ultra premium finish. Eccentrically named for their brilliant design, Blanche, Craig and Noyce come are all wall hung toilets that will surely add a special charm to your bathroom. While Blanche and Noyce are available in the bold colours such as White, Matte White and Matte Black, Craig comes in the simple yet sophisticated White colour. These toilets have been carefully designed to be fully purpose built and aesthetically pleasing, without a speck of compromise on quality!
Wash Basins:
Take your bathroom game up a notch by bringing in our uniquely designed wash basins Acecia and Argus, inspired by a palate of bright colours and the trump of Ace. Apart from these two beauties, you also have the choice to bring home the gorgeous Art Basins from Aurum Collections, that boast of a superior thin rim, 75 degree incline design for utmost convenience and a splash free experience every time you wash your hands! Kerovit is Freedom and hence we make sure we always let you have the freedom to choose from a huge range of products. Check out our wash basins from Aurum Collections and get your favourites home!
Bathroom Accessories:
Bathroom accessories aren't usually considered under the luxury spectrum of bathrooms. However, we have made a paradigm shift in this perception through our epic range of bathroom accessories with the Aurum Collections! Categorized as the 'Convex Range' and 'Square Range', our bathroom accessories add a seamless touch of luxury and increase the overall premium feel of your bathroom with lovely colour combinations such as Chrome-Rose Gold and Chrome-Gold.
There you have it! Wanna bring home light and joy to your home this festive season? Start with the Symphony of Colours from our Aurum Collections!