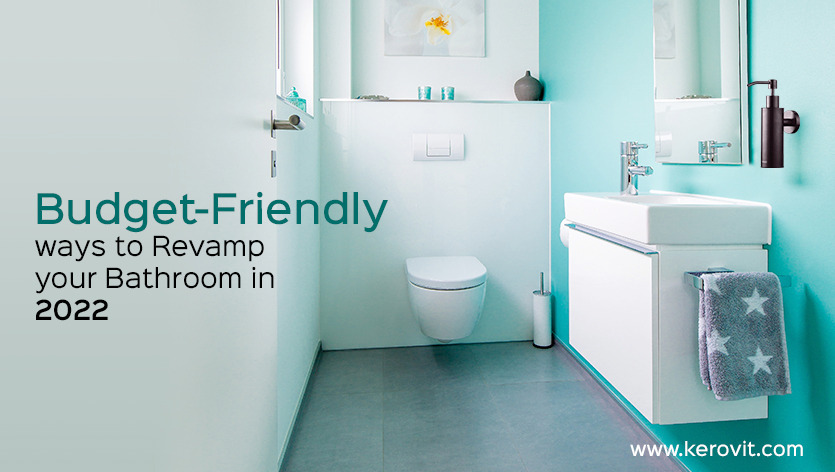 Budget-Friendly ways to Revamp your Bathroom in 2022
The bathroom is a space of your home where you spend a very large portion of your life, taking care of your daily hygiene needs, along with much needed self pampering. But just like most things in life, a fresh change in your bathroom brings a refreshing transition. While many believe that changing up the bathroom can cost a lot of money, it is a fact that you can get the desired results even on a tight budget!
This year, take your bathroom to the next level without being too harsh on your pocket! Here's how:
– Simply Accessorize 
One of the most cost effective ways to enhance the complete look and feel of your bathroom is to make minor investments on bathroom accessories. They are more than worth the buck as they make a significant difference to the overall aesthetics of the bathroom. In fact, even if you get yourself a new towel rail, soap dispenser or toilet paper holder, it would be adequate to give your bathroom a refreshing vibe.
– Fancy basics for the win!
Faucets & Sanitaryware, along with shower heads come in a huge variety of styles and designs. Instead of making your wallet bleed by spending tons of money on renovating the entire bathroom, sometimes a little change makes a mountain of a difference! Just visit your nearest Kerovit showroom and choose from the widest range of premium bathroom products that bring a symphony of colours to your bathroom every day. A mere replacement of the faucet or shower head can revamp your bathroom rather economically! 
– Paint up your masterpiece
This year, bring home a Symphony of Colours, whether through faucets and sanitaryware, or simply by letting your bathroom go through a fresh paint job. Based on the colours of your faucets, shower head, toilet and other bathroom fixtures, choose shades of colours for your walls that compliment the overall aesthetic of your bathroom. These kinds of projects don't usually require very high expertise and so you can most definitely do it all by yourself. This way you don't just save funds, but also get to choose the colours that suit your personality the most.
– Recycling goes a long way
Don't get rid of anything except if it is totally broken or futile. Rather than discarding, you can consider selling them or better yet, giving them a facelift. For instance, if you have some bathroom furniture that's gotten old, you don't need to get a brand new one. You can simply revitalise it by giving it a fresh paint job. 
Spending a fortune doesn't always guarantee complete satisfaction in terms of how happy your bathroom makes you feel. If you follow the simple steps mentioned above, you can personalise your bathroom exactly how you want it to be without even having to go beyond your budget. You know the best part? You get to be more creative and experience the thrill of DIY fixes!
Bonus Tip:
Try out different lights and see what sets the perfect bathroom mood according to your taste and preferences. The money spent on this is less than the time it would even take to put up a new light! You can thank us later.