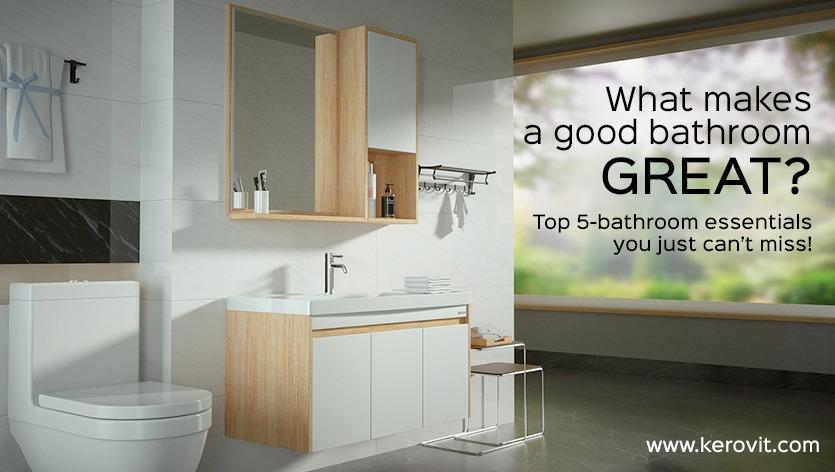 What makes a good bathroom GREAT? Top 5-bathroom essentials you just can't miss!
Whether you live in a villa, bungalow, apartment or even a makeshift living arrangement, one thing is for sure; you'll have a bathroom in your housing premises. At Kerovit, we firmly believe that every bathroom is special and that the freedom you feel in this specific space of your home is truly worth cherishing. 
Every bathroom consists of the basic amenities such as a toilet, shower, faucet and wash basin. Apart from these bathwares that serve the primary purpose of bathrooms, there are some accessories which are essential, should you wish to give your bathroom a much needed upgrade. 
Here are the Top 5 Bathroom Essentials that you just can't miss:
– Mirror, Mirror on the wall
One of the most common things that we humans do in the bathroom is check ourselves out in the mirror. You, yes you reading this, ask yourself how many times in a day you have a look at the mirror and observe your appearance. Now that you have an answer, let's just say that we all have similar answers! The perfect bathroom mirror has a flawless feel and timeless appeal; it plays a vital role in setting the tone of the entire bathroom and certainly makes you smile both on the inside and outside every time you look at it. 
– Let's 'Soap' for the best
A proper soap dispenser is an absolute must in the bathroom, especially since the pandemic has been acting like an uninvited guest refusing to leave! Get yourself a well built soap dispenser for the bathroom, that doesn't just fulfil its purpose but also makes a solid contribution to the overall aesthetics of the bathroom. Make sure that you strategically place the soap dispenser close to the wash basin and faucet for easy access and convenience. Take a walk to the good side (Kerovit's side, of course!) and you will be spoiled for choice; choose from colours like Gunmetal, Rose Gold and even Gunmetal Purple! 
– Let em' hang
Here's a quick and easy bathroom riddle for you – What keeps you dry, but gets wet every time you use it? *drum roll*…A Towel!! Whether you guessed it right or not, a towel is an absolute essential in our daily lives for the sole purpose of keeping us dry. To make sure that you keep your towels close and handy, it's a great idea to invest in a sturdy towel rail or better yet, a towel rack to hang multiple towels in your bathroom. Just like other bathroom accessories, a well designed arrangement for hanging your towels must also be fixed in the most appropriate part of your bathroom, so as to make sure it doesn't get wet before you use it. 
– Always in your corner
Isn't it annoying when you're in the shower and you have to stumble here and there with soap in your eyes and you still can't seem to locate where you kept the loofah or the hair conditioner? Well, here's a super easy solution to that – a well fit and properly designed corner shelf. Once you get a nice corner shelf fixed at a convenient distance from the shower, you can comfortably place your shampoo, bodywash, loofah and other bath products on it.
– Rolled up in style
While most Indians prefer using a health faucet for sanitation and hygiene after using the WC, some also prefer using toilet paper. Many people also use the health faucet first, followed by the toilet paper for wiping everything clean. Regardless of how you wish to use the toilet roll, it's a good practice to keep it nicely rolled up and properly kept in place by using a dedicated toilet roll holder. Our toilet roll holder comes with twin arms, designed for utmost convenience before and after use. 
So whether you're looking to refurbish your bathroom or just planning to build the bathroom of your dreams, make sure you don't skip these awesome bathroom essentials. Check out our Aurum Collections and explore both the Convex Range and Square Range of bathroom accessories!