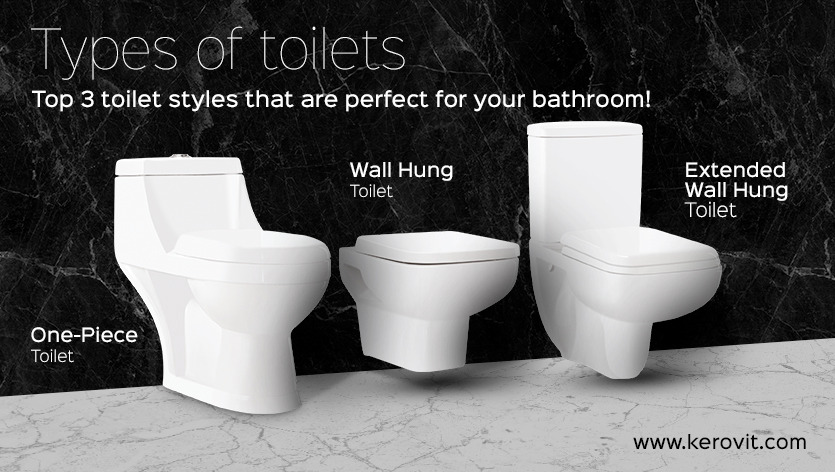 Types of toilets – Top 3 toilet styles that are perfect for your bathroom!
At Kerovit, we believe in building bathrooms that turn into a Freedom zone for you. This is that one part of your home where you have the liberty to do whatever and be whatever it is that makes you happy. But if we leave out the expressive aspect of bathrooms and talk about the primary purpose of them, it is of course used for maintaining daily hygiene. One of the most important parts of that is bowel hygiene which is taken care of by WCs (water closets) or as it's popularly known – Toilets.
Toilets are an integral part of bathrooms and it is important to be well informed about toilet types and the features that come along with them, in order to choose the perfect toilet for your bathroom. Not only does a toilet serve its purpose of providing hygiene, it also plays a vital role in the overall aesthetics and feel of the bathroom. If you have decided to refurbish your bathroom or are planning to build your dream bathroom, you must ensure that you take an informed decision to get the best results!
Here's all about the top 3 types of toilets which will help you choose the right style for your bathroom:
 1. One-Piece Toilet:
This is one of the most common and popular styles of toilets, wherein the bowl of the toilet is connected to the tank. As the name suggests, a one-piece toilet is a complete unit of ceramic. One of the most prominent upsides to having a one-piece toilet is that it's relatively easy to clean. This is due to the fact that the tank is smaller in size and without any crevice in the middle portion. If you're buying a one-piece toilet, it is usually the case that you will get a toilet seat along with it. Another awesome feature of this toilet style is that the breadth from the wall is shorter, which makes it easier to put together the bowl and seat with the tank. The installation process for a one-piece toilet is rather simple and all you would need to do is properly mount the water supply on the wall and toilet with the drain, on the floor. 
2. Wall Hung Toilet: 
Perhaps the most eccentric and stylish type of toilet that has gained popularity in recent times and has received continuous praise from users. As the name goes, this kind of toilet literally is mounted on the wall of your bathroom and appears to have no tank at all. Yes, you read that right! The aesthetics of a wall hung toilet are highly sought after, as they're just mounted on the wall and do not touch the floor at all. In case of such toilets, the tank is actually well hidden inside the wall of the bathroom itself, which makes the process of cleaning way easier for you and there's absolutely no room for leakage problems from the tank. All you have to pay attention to is the overall plumbing and installation process, as a wall hung toilet needs to be perfectly stable when on the wall.
3. Extended Wall Hung Toilet:
An extended wall hung toilet is similar to a wall hung toilet, but only in terms of the name. Contrary to a wall hung toilet, an extended wall hung toilet is one that has a tank in place, which isn't hidden behind the wall and also the ceramic does touch the ground in this case. While the maintenance of this style of toilet is fairly easy, installing it in your bathroom depends entirely on your taste in aesthetics and what you aspire for your bathroom to look like overall. 
At Kerovit, we have a large selection of toilets, which also come in matte finish colours under the Aurum Collections range. Check out our range of toilet products and choose the perfect one for your bathroom.