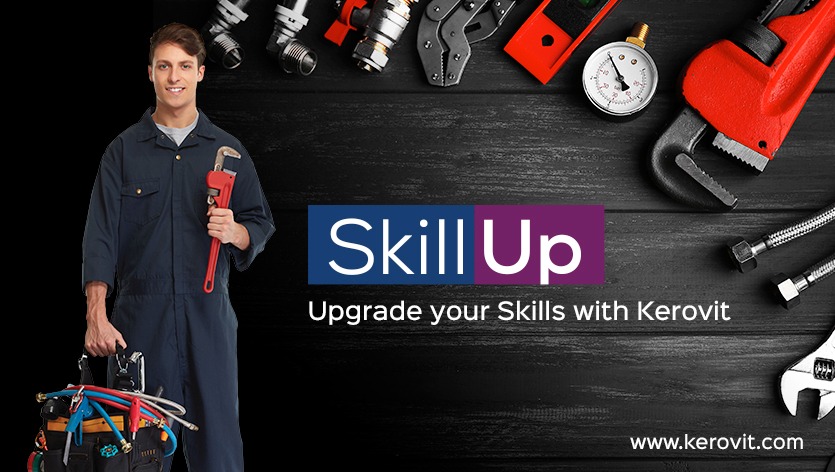 SkillUp: Upgrade your Skills with Kerovit
The ever growing pace at which the world works requires all of us to be resilient, determined, knowledgeable and most importantly – Skilled. Regardless of which walk of life you come from and the relevant skill set you possess, it is of prime importance that an individual continuously strives to better themselves by enhancing their skills. 
The bathroom industry is no exception in this case and the process of bathroom fittings and fixtures is flawlessly executed, only when it is supported by sheer technical knowledge and skills. At Kerovit, we always like to go a step beyond the norms and decided to make a substantial contribution to the local community of bathroom technicians A.K.A plumbers, through a dedicated skill development program called 'SkillUp'. This initiative is part of our CSR work wherein we are helping individuals enhance their employability and equipping them with the potential to bring a positive change in their lives.
The perfect arrangement
We understood that the ideal venue for us to organise this technician's meet would be either the distributors' or the dealers' showrooms, which has adequate space and also gives the technicians a real-time experience with our bathroom products. Shedding some light on the 'adequate space' mentioned in the previous sentence; we had decided to keep a group size of maximum 15 to 20 technicians per session. This is because we wanted to be able to give each technician optimum attention and ensure unwavering focus on the objective of the program at all times. 
A holistic learning experience
The primary objectives of SkillUp are:
– Communicating to bathroom technicians/plumbers what the brand Kerovit means and a deeper understanding of how special every bathroom is
– Complete technical knowhow that includes theoretical and practical knowledge of internal parts (cartridges etc.) relevant to plumbing
– Assimilation of issues faced by technicians and appropriately catering to their technical needs
– Proper guidelines on installation and maintenance procedures, to deliver the best possible output to customers
– Teaching them about Physical Vapour Deposition (PVD) Technology used on coloured faucets as exhibited in our Aurum Collections. This is to keep them up to date in their field of work and encourage them to give better recommendations to their customers.
– How the association of technicians and Kerovit is mutually beneficial for development and success
Rewarding development
We wish to keep the morale and enthusiasm of the technicians high and felicitate them for wanting to upgrade their skills and changing their lives for the better. Hence, all the technicians receive a participation certificate for the SkillUp program, along with a personalised ID Card mentioning their completion of our skill enhancement program; this boosts their credibility in the eyes of customers. 
We ensure that SkillUp takes place at regular intervals as per the convenience of everyone involved and that both our technicians along with the Kerovit team work in perfect synchronization. It is our aim to remain committed to this program, touch the lives of every technician in India and inspire them to constantly better themselves.
Kerovit is Freedom and we want everyone to use freedom to upgrade!